Physical education teacher wins $20,000 grant money
Joshua Perea shares how he won and restore his community school sports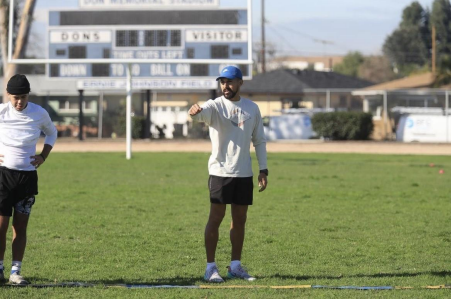 Soccer balls and new gym equipment are some of the ways Pico Rivera teacher Joshua Perea recently distributed the proceeds of a grant for athletes in his weightlifting, football, and track and field programs.
Perea is a coach at El Rancho High School and the STEAM Academy at Burke and found himself with $20,000 in funding after winning a Champions Education Here grant in September.
An El Rancho Unified School District school board member suggested Perea enter the contest, which is open to physical education and elementary and special education teachers, coaches, and afterschool staff. Specifically, the contest committee was looking for educators "who harness the unique power of sport, play, and movement to support the mental health and social-emotional needs of students." The grant is sponsored by the Los Angeles College Football Playoff National Championship Host Committee, the College Football Playoff Foundation, ChampionLA supporters, and the LA84 Foundation. 
The grant was awarded to 46 educators in September and announced in December. Perea was left with some mulling after discovering he had won. "It was up to me to decide what I wanted to spend and how I wanted to spend it," he said. 
After receiving the award, Perea sent invoices to the contest committee regarding his school's needs. He used the money to buy new physical education equipment along with soccer balls, basketballs, frisbees, volleyballs, and hockey pucks. Some of the proceeds were also used to buy 45 baseball gloves for a new club which will start soon.
The most impactful contribution for students, according to Perea, was directed toward the running club at STEAM Academy. Students who were in the club received new running shoes, which was a game-changer considering many students in the club did not own any.
Perea said in a promotional video made for the contest that many of his students practice and compete in basketball, skateboarding, and walking shoes. "They don't even know what it's going to be like when they put on running shoes," he said. "That's one of the things I'm looking forward to is unpacking those shoes, giving them…and then getting to see them experience what it's like running in actual running shoes."
Perea also contributed some grant money to El Rancho High School's teams. Perea donated to the school's weight room, which is accessible by students from any of the school's athletic teams. 
Daniel Rodriguez, an El Rancho High student who competes in football and track and who is coached by Perea, said Perea has always gone above and beyond for his students. "Coach Perea always goes the extra step for us, cleaning out our shed and buying new safety equipment… to see what he got us with the grant money is amazing," Rodriguez said. Perea also purchased dumbbells, rogue sleds, plates, bars, and 50 foam rollers for the weight room.