Places students like to study on campus
College students understand that finding the best locations to go study is very important to help with their school performance. But it can be challenging to find some of the best locations on campus, especially if you are a new student.
Most students interviewed said they look for quiet, lesser-known spots on campus to study.
Steven Gonzalez, a theater major at Cal State LA, explained his choice of an uncommon location to study at. Not a lot of people go to the Golden Eagle building, which is why it's one of his regular spots.
"I feel like if people are talking around me, I just get distracted very easily," Gonzalez said. "If you walk up the stairs where you'd go to get your golden eagle badge, [there is] the little area off on the side. Not a lot of people know about it. So it's usually pretty empty and quiet up there. That's a good place to eat, study, do whatever you have to do."
Gonzalez also had thoughts about improvements to the study environment for students.
He said they need "more tables, because there's only three up there."
"There's a chance that you just go at the wrong time, then the tables are full," Gonzalez said.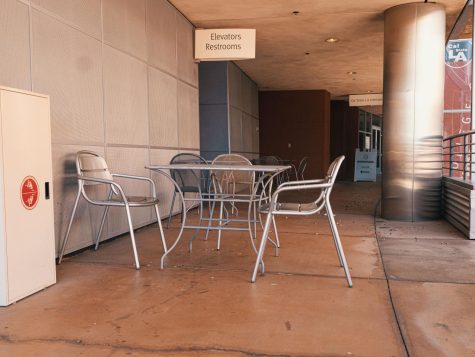 Other students, like Dominick Morales, prefer more popular spaces like the campus library.
Morales, a criminal justice major at Cal State LA, said he needs a place that is super quiet to help him and the best place for that is the John F. Kennedy Memorial Library.
"The library is more isolated and it's not as noisy, like skateboards going around or interruptions outside, like birds or anything that would interrupt me," Morales said. "I think the library would be the best, most ideal place for students to study. You get to be productive."
Morales said that he thinks that students usually find a place that has outlets to recharge their devices, which the library has.
Next is more of a specific location within the library called, "Silent Study Spaces." This is a very suitable place for studying, according to Maddie Ortiz, an English major.
"In this library, they have a zone and [it] has a little desk," Ortiz said. "I find it really convenient to stay there."
She explained how this location in the library does not need anything else added to make it more productive for studying.
"It's kind of the perfect place to be," Ortiz said. "It's silent. Everyone else around there is like minding their own business, not bothering you in any way."