Popular weekly night market may move
A new spot could double its size and quell complaints
On a recent Friday night, people attending the night market in La Puente walked past sweet smells of crepes, popcorn, tortas and other treats while children waved bubble wands and ran around, their faces painted with butterflies and lions. In the middle of the intersection of the two main streets where the market is held, a stage with live bands drew music fans with beverages and lawn chairs in tow.
This is a city that loves its weekly "La Puente Live" market in its downtown area. But as the open-air market grew in popularity so did the crowds, which makes it hard for shoppers to maneuver around each other and vendor stalls. Some local businesses have complained the market blocks their storefronts. Another gripe is that people buying food from the market eat it in the patios of nearby restaurants.
At a recent city council meeting, La Puente leaders discussed the idea of moving the market about a block away to Stimson Avenue and Central Avenue, which is next to city hall, the city library and a county building. By moving to that area, the number of vendors can be doubled to about 150 while the number of city staffers required can be reduced, according to a council agenda report. The decision is expected to be made by the end of March, when the city's contract with the market manager expires.
The market was created back in 2015 as "an avenue to support local businesses and artisans by providing them with an opportunity to sell their goods and to showcase their businesses," according to the agenda report.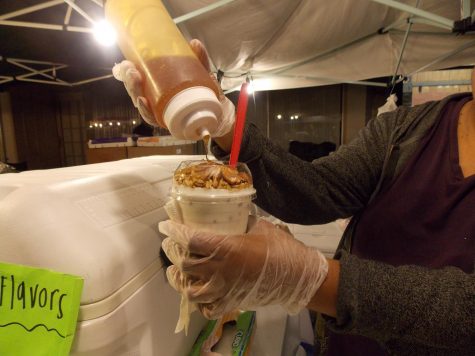 The market was created as a summer event but became such a hit that it was transitioned into a year-round event. The market draws city residents as well as others from cities such as Hacienda Heights and West Covina.
At the council meeting, Mayor Valerie Munoz stated that when the council decided to open the market, "our goal was to ensure that we would draw new people to our downtown area in hopes that it would revitalize our businesses, bring in additional foot traffic and just provide additional marketing for our community stores."
It has done that, but vendors say more space is need.
Yolanda Leon, a former vendor for the open-air market, said by phone that she likes the new proposed location: "That's perfect. It's great for the vendors. It's a very family-friendly place, with lots of different food varieties. I think the vendors and citizens would be very happy."
For now, the La Puente Live market will still be held Fridays from 6 p.m. to 10 p.m. at the corner of Main Street and First Street.
Community News reporters are enrolled in JOUR 3910 – University Times. They produce stories about under-covered neighborhoods and small cities on the Eastside and South Los Angeles. Please email feedback, corrections and story tips to [email protected]