South Gate High scholar awarded $50,000 scholarship
A South Gate High School Student received a life-changing surprise that he didn't see coming during his school's career day.
Joshua Alvarado, 18, a senior at SGHS, was attending the school's annual career day event earlier this month when he was presented with a $50,000 college scholarship from Edison International.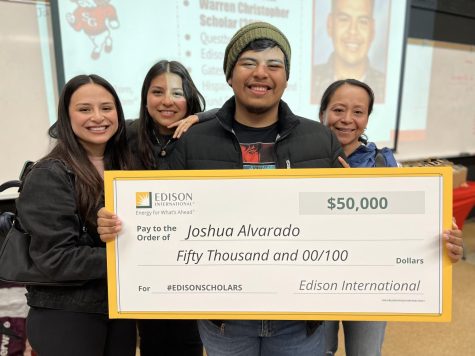 "Career day was not as expected," Alvarado told the University Times. As a volunteer that day, he was told that there was a problem with testing forms and was told to go to a different room. "I had applied for the Edison scholarship and completed the necessary steps but at some point, I had stopped hearing from them, so I thought, uh oh, I think I lost it," said Alvarado. He was later so surprised to realize that they were all there because of him and learnt that he was awarded the scholarship. "At first, I was like, oh wait, is this like for me? But I was like maybe he is here for something else…" he said.  "But then he calls my name, and he hands me a big check and my family jumps on me and I'm in just an emotional shock." continues Alvarado. 
Alvarado was among the 30 High school seniors that live in Southern California Edison's service area who received a college scholarship from the electric utility company. 
The Edison Scholarship program is intended to help students who are interested in pursuing their STEM studies at a higher educational level. 
Alvarado said he was first introduced to STEM by his father. He said they would fix things together that were broken and bring them back to life.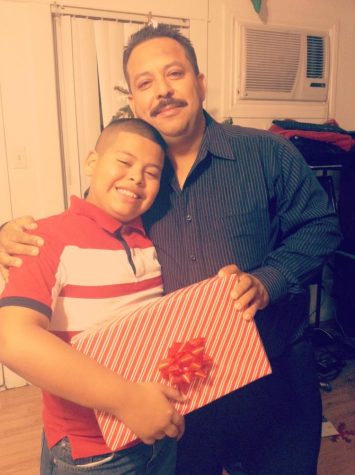 When his father passed away five years ago, Alvarado said he continued to pursue STEM in high school. 
"I knew that was what I wanted to do, and I combined that with my other passion, which is outer space and sci-fi," he said. "I realized that what I wanted to do was become a mechanical engineer, graduate, and then one day work for a company like NASA and learn more about our universe," he added. 
SGHS college counselor Celina Corona said the school was proud of Alvarado, who is also the school's valedictorian.  
"He is a hardworking student doing exceptionally well in school," Corona said. "He has taken advantage of all opportunities that are available here; he is part of educational programs and leadership and applied to many scholarships, so we are very excited for him and his family." 
The moment that Alvarado was presented with his scholarship was special as it was in front of his mother and siblings. 
Alvarado's mother, Irene Rodriguez, a single mother of 5, could not resist the tears as she witnessed this big moment for her son and their family. 
Joshua's father passed away five years ago, leaving the mother of five responsible for taking care of all the children. Rodriguez said this scholarship was a much-needed helping hand, given that it would make a huge difference in her son's education and that she could not be any prouder. "Thank you, son. Thank you for being a marvelous son," said Rodriguez while looking at her son.
Alvarado is set to head to Stanford University this fall of 2023. His mother, very proud of her son, shared that she was excited for his future at Stanford. "I'm happy, very happy, knowing that he's leaving to pursue his dreams. I'm always happy wherever my children are going to pursue their dreams," she said.
Community News produces stories about under-covered neighborhoods and small cities on the Eastside and South Los Angeles. Please email feedback, corrections and story tips to [email protected].