South Gate: Where the lights are as almost as old the city itself
Residents hope officials can help improve lights, parking and traffic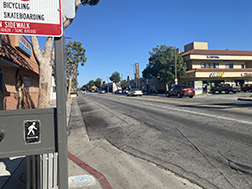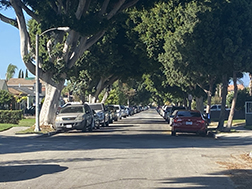 South Gate residents love the area for its rich history: The city will be 100 years old in just over one year.
What they don't like is the infrastructure, some of which is nearly as old.
Among residents' chief concerns are the narrow roads, which have led to parking and traffic issues, and problems with street lights.
A quick night-time drive through South Gate indeed reveals some of these issues, including flickering or completely dark lights. Over the years, news reports of people, including kids, being struck at night have led residents to suggest better lighting.
"Our lights are over 80 years old, and they don't make parts for them anymore. And so, staff has to find the other cities that have the same kind of old lights that we have and see if they have any spare parts for them," said Gil Hurato, a South Gate city council member.
That said, over 40% of the oldest lights have been converted to LED and the city is steadily working on other improvements, he said.
The city has applied for outside funding but it's up against many other cities in California that need similar improvements.
And while "they are very expensive," Hurtado feels that ultimately they'll result in "a savings for the community."
Stephanie Rodriguez, a resident of South Gate, said in addition to improving lights throughout the city, she'd like to see the city or school district add lights to South Gate Middle School.
The other two significant issues that the city deals with are parking and roads, especially along Tweedy Blvd., which connects to major streets like Firestone Blvd. and has a commercial strip with banks like Chase and Wells Fargo and government buildings like Leland R. Weaver Library and Bryson Elementary School. 
"It's definitely throughout the city: They need turn signals here badly. There are no turn signals here on Tweedy Blvd., and in the last eight years I've been here, I've seen probably 25 accidents in just left turns," said Steve Wright, a reference librarian for Leland R. Weaver Library in South Gate. "The roads themselves aren't as bad because I've been in other cities, and they're just as bad. Potholes and [such], but they can use some…pothole improvements in that section where there's a lot of heavy traffic."
On one stretch of Tweedy, he said, the far-right lane has many cars parked, leading to traffic bottle-necks at some intersections.
Wright added that he has seen a number of improvements on Firestone Blvd., another street with shops and restaurants like TGI Fridays and Azalea Regional Shopping Center. But he said he has rarely seen any on Tweedy Blvd.
He also said that parking is an issue near residential streets and many people park in the library parking lot at night because of the parking shortage.
Residents are forced to get creative.
"Where I live, near the railroad, you'll see a lot of parking on the railroads," Rodriguez said. "Parking is horrible. Most families have a couple of cars per household, and there isn't enough parking."
Council members had planned to talk about the city's parking study in mid-September but pushed it back to the next council meeting. It is on the agenda for the council meeting on Tuesday, Sept. 28, at 6:30 p.m.
Community News produces stories about under-covered neighborhoods and small cities on the Eastside and South Los Angeles. Please email feedback, corrections and story tips to [email protected]