Surviving stage 4 lung cancer during the pandemic
Southeast LA resident shares struggles and triumphs
As Jodi Moreno ascended in her career, her marriage began declining and soon after, her health.
The health issues surfaced during the COVID-19 pandemic, making things worse. But through it all, she has grown more than she thought possible.
Starting out
Moreno, who was raised in Montebello, attended Cantwell Sacred Heart of Mary,  graduating in 1995 with a 3.8 GPA, and earned a bachelor's degree in general studies from Cal State Long Beach.
When she was 24, she attended a New Year's party, where she met Kenny Moreno, who had just completed four years of service in the U.S. Marine Corps.
They started dating, and about four months later, Kenny learned that a public storage facility in Whittier, California, needed a residential management team and that the job would provide a free apartment.
So the couple moved in together and were married in 2007 when she was 30.
Facing success and hardships
Moreno has loved working as a manager in the storage industry. She said there's never a dull moment: arranging vendors, hiring people, leasing units, collecting rent, and improving the business daily.
She has found that people working in the industry are often going through critical moments in their lives: Going through a divorce, displacement, or even a death in the family, so some end up being more vulnerable than usual and connecting with each other in a deeper way.
A few years in, she realized the employees around her weren't the only ones facing difficulties.
Kenny, her husband, wanted to move to another state to pursue a career in respiratory therapy, while she wanted to continue growing in storage management.
She was hired at Nova Storage in 2008, and in the years after, she learned that Kenny was having an affair. The Morenos divorced in 2017.
Facing health issues
Several years later, as the COVID-19 pandemic was just getting started abroad in Jan. 2020, Moreno developed a cough.
As it worsened, she was tested for COVID and was told she had it. Meanwhile, the cough kept getting worse and she was also diagnosed with pneumonia.
Then, on March 13 2020, Moreno's doctors gave her a bronchoscopy and found a 10-centimeter mass in her right lung.
Her oncologist informed her that it was stage 4 lung cancer. The doctor was "grim," she recalled, and gave her two years to live with chemo and immunotherapy.
The news felt like a "death sentence," but a part of her felt relieved to know what it actually was.
For months, she battled a terrible cough, couldn't eat much, and was practically bedridden. She lost 20 pounds, and her skin tone was very pale. 
Moreno's mother, Carey Lee, moved in with her to help take care of her. She said that even though she was deathly ill, she would refuse to take the medicine that was prescribed to her. Lee said, "It was horrible. Watching your baby suffer like that, and there is nothing you can do. She couldn't laugh or breathe. She was miserable."
Trying a new health provider
Moreno's boss, longtime friend, and owner of Nova Storage, Larry Layne, was not satisfied with the way her health care provider handled the diagnosis and treatment. He told her to get a second opinion from the oncology department at UCLA, and that he would cover the cost. 
He also added UCLA onto Nova Storage's paid provider network so Moreno could be fully covered and paid for.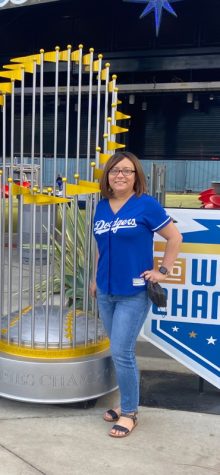 One main difference she noticed is that the doctors at UCLA did not make her situation seem so grim. She said that right away, they told her that she was going to make it and that she was young enough to beat it.  They gave her hope.
Whereas before, things seemed rushed, and the doctors didn't monitor the anesthesiologist during her bronchoscopy, UCLA staff played her favorite music as she went through similar procedures. Moreno said that UCLA felt like it was a luxury.
The medicine they provided was a slightly higher dosage, too, and it included Taxol, Keytruda, and Pepcid.
Moreno still has stage 4 lung cancer, but it's considered stable. She does immunotherapy every three weeks, and if that stops working at some point, she'll move on to taking a chemotherapy pill once a day.
Getting a new outlook
Fighting stage 4 lung cancer gave Moreno a fresh perspective on life and brought her closer to God.
Moreno also joined a few storage associations to give back to the younger generation the knowledge she has gained over the years. She is part of the education and training committee, and marketing and communication for the California Self Storage Association.
She also found a new joy in being alive and takes vacations any chance she gets.
"I'm just enjoying life. Dodgers games, concerts, visiting family," she said in early September, adding that her health is stable and she gets checked every three months.
Moreno's advice to anyone with health issues: "Stay positive, manifest that you will get through it. Build a strong relationship with God, research all of your medical options, build a support system of friends and family who will keep you strong, do everything on your bucket list, and never give up!"
Updated Sept. 4, 2022.