Teacher, aide layoffs looming at El Rancho Unified School District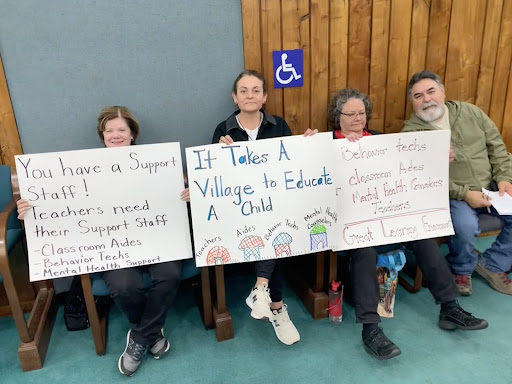 Pico Rivera teachers and staff are worried their careers may end prematurely after the El Rancho Unified School District recently rescinded less than 20% of expected layoffs announced in March.
With COVID-19 money and other state funds and grants terminating, the El Rancho Unified board sent out notices to teachers and staff alerting them they plan to cut 46 teaching positions because of this situation.
These positions include psychologists, elementary school, middle school, and high school teachers, and mental health counselors, according to the El Rancho Unified board resolution from March 7.
Since then, the district rescinded layoffs to eight mental health counselors, according to Lilia Carreon, El Rancho Federation of Teachers Union President.
Of the 46 original positions being laid off, 18 were mental health and behavioral technician assignments. According to the resolution, those positions not rescinded are expected to be terminated by the end of the 2022-2023 school year.
People within the Pico Rivera community were saddened by this and spoke out during the El Rancho Unified board meeting on March 7 at Pico Rivera City Hall.
Elementary school teacher Marisa Oste thought the issue of students' behavioral problems has risen since the pandemic, and the layoffs of behavioral technicians should be reconsidered.
"This is not a problem unique to this district or this community. Educators all over the country are ringing alarm bells [and] reporting an increase in the number and severity of behavioral problems," Oste said.
Behavioral technicians are classroom aides. They observe a student with behavioral problems and help them during hyper-active moments, and aggression, and ease the job of a classroom teacher, said Oste, a direct benefactor of a behavioral technician.
Oste added, "The presence of a behavioral technician was critical to the function and the safety of the classroom, and I don't think I can stay in my job without that support."
Christine Saavedra, a concerned El Rancho Unified parent, believed other items could be cut from the budget, but downsizing teaching staff is not one of them.
"A lot of kids struggle, and I can't imagine where we would be right now without the help that we have," she said.
Saavedra called the idea of eliminating behavioral techs, instructional aides, and the  mental health team "terribly, terribly wrong."
Many teachers are worried the most about mental health and behavioral technician positions, with the latter proposed to be cut dramatically.
The district sent out pick slips on March 15 to teachers expected to be laid off.
Carreon, the union president, said the board was targeting teachers with two or fewer years of service who were not eligible for tenure and thus were easier to eliminate. 
Carreon said many of the jobs targeted were temporary positions funded by state grants and COVID-19 money, and the district said it was unable to pick up the tab.
The El Rancho Unified Board has until May 15th to finalize layoffs.
"We are still finalizing all the specifics regarding this situation and cannot comment too much yet," El Rancho Superintendent Dr. Marco Villegas said. "What I can say is that we value our employees, and we will make sure we have the staff needed for our students to be successful next school year." 
Moses Alcala, a district behavior technician, lamented the hit to behavior technicians. "It's such an essential position and pretty significant work being done and not just on my end but mental health counselors as well," he said.
Behavior technicians not only help students with behavioral problems but build relationships with students, he said.
"Our approach is not just behavioral analytics," Alcala said. "At the heart of everything, our foundation is always making sure kids feel safe and comfortable."
With less than a month left before layoffs, Oste said teachers and staff are terrified.
 "We are scared," she said. "Please do not play games with the students' and staff's safety."