Art's Delicatessen has been a fixture of the San Fernando Valley for 66 years, serving matzo ball soup and pastrami sandwiches to patrons ranging from the average knish-lover to the most powerful movie stars and movie chiefs.
Harold Ginsburg is the president and owner of the company Art's deli on Ventura Boulevard in Studio City. He is the oldest son of the former owners and creators of Art's, Art and Sandy Ginsburg. He grew up watching his mother and father run the famous Jewish deli that he proudly oversees and oversaw its rebuilding after a fire following the 1994 Northridge earthquake almost ended the store. The restaurant's menu includes any kind of American Jewish deli meal a customer could think of. Pickles, corn-rye, sandwiches, salads, Kreplach… This strip of Ventura Boulevard would be different without Art's deli. Ginsburg answered questions from UT Community News.
How did the deli get its start?
"My dad grew up working in delis because he had a relative who owned delis. They (Art and Sandy Ginsburg) decided as boyfriend and girlfriend, they were going to buy a business together. So, they sat across the street and looked at this existing tiny deli that was here for sale and counted cards to see if it would be a good location. And so that's why they decided to start it. And then they made them an offer and bought the business in June of 1957."
What happened to Art's during the 1994 Northridge Earthquake?
"So, we had a fire 23 hours after the Northridge earthquake when the Department of Water and Power turned on the power and just flipped the switch and didn't check any of the transformers. And so, in our alleyway where all the transformers are, they were all popping and going off. And then we must have had some loose wires on the roof, and they smoldered and caused the fire.
So, people were really devastated about the fact that we were closed because we had a fire the day after the earthquake. A lot of people were traumatized by the earthquake. We had a lot of customers that came here the morning of the earthquake before we had the fire. They were in their pajamas still because they were almost killed in their houses with falling beams and falling stuff and everything else."
"And so, they were like, 'Oh my God. What are we going to do? We don't have anywhere to go.' So, we decided we have to plan with the insurance to rebuild. And customers were very supportive. We had an office right next door, one for me to monitor the construction process… to see our customers and see people and talk to people and see how things were going. People were coming in wishing us well and the community supported us that way."
"They just couldn't wait for us to get back…it's all before [COVID-19] and before all this crazy stuff. So, people's lives were upended because the whole city was pretty well torn apart and people died, and it was crazy. The fact that we were able to reopen in nine months, people were like ecstatic that life was starting to get back to normal and that one of their regular places was open. And the day that we reopened was nine months and two days after the earthquake. And they had a line down the block at 5:30 in the morning. It was crazy. People just couldn't wait to come back. It was all really good. So, the community really, really supported us and kept us going."
How important is it to you to continue business at Art's? 
"Very important. We've been in the community for 66 years now and I think people come here not only for good food and good service – you can get good food and good service anywhere – but it's the idea of being able to come to their home. The Jewish deli is always a home for people. So, when you read online about some of our friendly competitors, people are always comparing, 'Well, that's my deli. No, that's my deli.' Where I go, people are very connected to the delis they grow up going to and kinda say bad things about the other delis, which is fine. But what's crazy is that I know most of the owners of all the other family-owned delis, and we all get along great and talk and share recipes and share vendors and figure out things."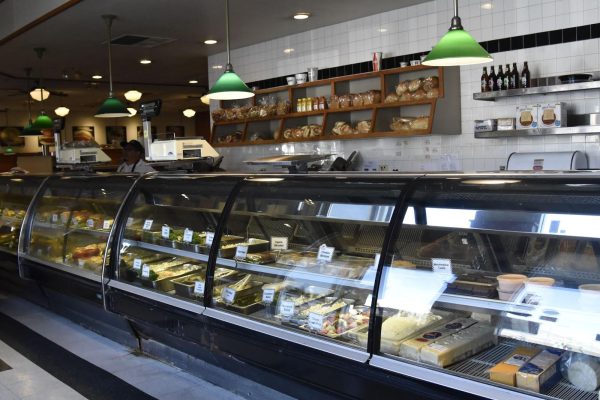 Does the deli see a lot of business from the many studios in the area? 
"Yes…Studio City's name is Studio City because of the Radford Studios. So, this whole area developed around the studio. So, if you go on the streets behind us, you'll see that if you see some remnants of some of the old Spanish style houses, those used to be very large estate lots back here before, and they tore it all up and made all the small, cute houses here. So, this is where all the studio people lived over here. So as Universal Studios went in, and as Warner Brothers went in and everything was really close. People say, 'Oh my God, it's Hollywood.' It's like, well, you got to remember on the flip side is that these places are massive and there's hundreds of thousands of people working in each of these locations, doing all the studio stuff from people that are secretaries to the executives, and then all the way down to the exact production where there is scripts and all kinds of people behind the scenes, in front of the scenes and doing lots of stuff."
"Same thing here is that, you know, take away the name of Hollywood. It's just our economic engine here. And then that really drives business throughout this community, as is the entertainment industry. So, yes, having businesses like Radford Studios, Universal, Warner Brothers, is very important for us to have in the area."
How has the pandemic affected business, both during the lockdown and now? 
"It really impacted business a lot because the first couple of days it's like, okay, you're going to shut down 50% of your business for us, it was okay. We have a lot of friends who have businesses that don't do as much takeout as we do, and they were like completely shut down which was really devastating." Ginsburg added, "Again, the same idea that people were starting to realize that if they didn't support the businesses that were still open, they were going to go away. And that was really nice for us, is that people came and supported us a lot with takeout during the pandemic and again, our menu is suited for takeout."
How have the writers and actors strikes affected Art's business, negatively or positively?
"We started to notice that we just don't have as many writers coming in and producers coming in to have meetings for production. We had…been off just a little bit, but the other people are still coming back in and some of the higher ups in the studio system and some of the lawyers and other people that are doing okay are still coming in," Ginsburg said. "We usually…do some of the production meetings for the shows. They would…order lunch and not necessarily catering, but they would order big lunches for their groups. Or we would also do a lot of group orders for some of the sound editing bays and for some of the video editing bays and that's just has been non-existent."