Traditional methods, modern messages
Activism and art featured in South L.A. gallery exhibit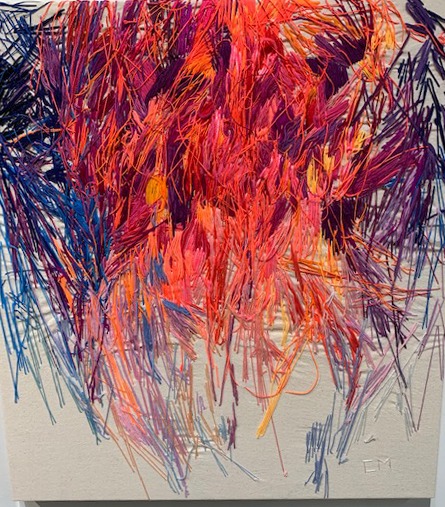 A wild, abstract sunset — made of bold embroidered lines on canvas.
Strips of cardboard boxes assembled into a pattern, like buildings on a map.
Black and white drawings of a woman slowly standing up from fetal position.
This is just some of the artwork on display through March at the nonprofit South Bay Contemporary SoLA gallery, which is in South Los Angeles. Much of the artwork makes statements about feminism, the area's housing crisis and other social justice issues. Some of the artwork is part of an exhibit called "FRESH 2019" — which features art chosen from about 700 entries, including some from countries like Japan and Italy.
The brightly embroidered piece, called "Sunset" by artist Carmen Mardonez, uses "an old tradition [with] very specific stitches," noted Peggy Sivert Zask, the gallery's executive director. She added that the modern feminist movement is reclaiming such traditional methods that once represented domesticity: "More and more fiber arts are coming out."
Another piece that's part of the "FRESH 2019" exhibit shows a woman laying down in fetal position and then outlines of her slowly rising up and eventually standing, fist in the air. The piece symbolizes women's strength to overcome obstacles, according to Tatum Hawkins, the gallery's social media director.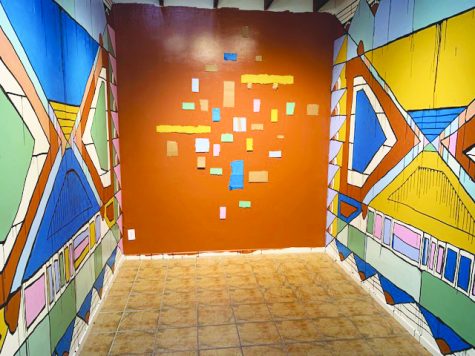 As part of her "Cardboard Revival" installation, artist Holly Tempo covered two opposing walls with bright, geometric patterns inspired by painted African Ndebele houses. The middle wall connecting them contained a pattern of pieces of cardboard boxes, some painted. The exhibit explores "the Modernist, middle class fantasy of the prefab home that helped shape suburban life after the war and how that was incongruous with the realities facing many black people at the time," Tempo wrote in a statement on the gallery's website. "This exploration plays out against the present-day fetishization of the Mid-Century Modern aesthetic, an obsession with tiny house living, the crisis of homelessness that continues to spiral out of control."
Sivert Zask said the "FRESH 2019" theme emerged from the desire to find "what is current, what is new in art, and what are artists doing today."
Details about the exhibits, which run through March 30, are available on the gallery's website.
Community News reporters are enrolled in JOUR 3910 – University Times. They produce stories about under-covered neighborhoods and small cities on the Eastside and South Los Angeles. Please email feedback, corrections and story tips to [email protected].