Unhoused Eagle Rock resident died before he got into his tiny home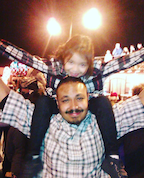 It was just weeks until Gabriel Estrada, 38, planned to get off the streets and into his own tiny home in Eagle Rock.
"He was very excited," said Maria Ramirez, his neighbor in an encampment under the overpass of the 134 freeway on Figueroa Street.
Estrada lived in a tent and found out that he was eligible for a tiny home some months ago.
But he passed away on Feb. 19 of unknown causes, according to Ramirez.
Estrada stayed at The L.A. Grand Hotel Downtown as a part of Project RoomKey, a sheltered option for people experiencing homelessness, last September, According to Ramirez. She added that Estrada received the help he needed, including medication to help him kick his drug addiction.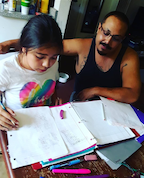 He began to feel hopeful again.
"I would tease him about being on the phone," Ramirez said. "He would say, 'I'm meeting girls, all kinds of girls,' and I would be like, 'Oh yeah, sure.' And he would always joke with me and my husband."
Estrada's key motivation to seek help and new opportunities were his daughter, Destiny Estrada.
"My father would always tell me, 'Destiny, I love you so much. You're my number one. You're my angel,'" Destiny, 15, said in an interview with UT Community News with permission from her mother. "When I was younger, it was kind of like he was just saying it to me, but now that he's gone, I realized he actually meant it, like it was important."
She said that she understood her father's struggles and issues. However, she also knows that her father is one of many who faced difficult situations on the street: addictions, being robbed and other challenges that can make them bitter and cause them not to care anymore. Estrada, however, still cared and she said she wished society did, too. 
Earlier this year, Estrada began to have pain in his arm and asked for medical attention, so he was sent to the hospital, according to Ramirez. After spending five days there, he was released.
However, when Estrada was released, he no longer had a room at the hotel and was forced to return to the streets, said Ramirez.
"When someone is gone for a certain number of days, for whatever reason, they give the room away because they only have a certain number of rooms, and they can't keep rooms open," said community and outreach member Jane Demian.
According to Demian, many unhoused residents face countless disappointments and frustrations that damage their trust because of promises that have fallen through.
On the day of Estrada's death, he had pain in his leg from a previous injury he suffered some years ago, and might have sought out medications, said Gaby, Destiny's mother, in an email to the UT. She did not want her last time identified to avoid any conflict between families. 
According to Ramirez, Estrada's tent was approached around 3 a.m. by an unknown individual, perhaps for medication, which could have negative consequences.
"His death was a mistake. He knew his daughter needed him. He knew he had to figure out a way to get back on track," Gaby said.
The L.A. County Coroner reviewed Estrada's body, but following the examination, his body was deferred for further tests, according to Public Information Officer Sarah Ardalani. The examiner requested other studies to determine the cause of death.
Community News produces stories about under-covered neighborhoods and small cities on the Eastside and South Los Angeles. Please email feedback, corrections and story tips to [email protected]