Vernon council unanimously censures mayor
Council member raises concerns about alleged political activity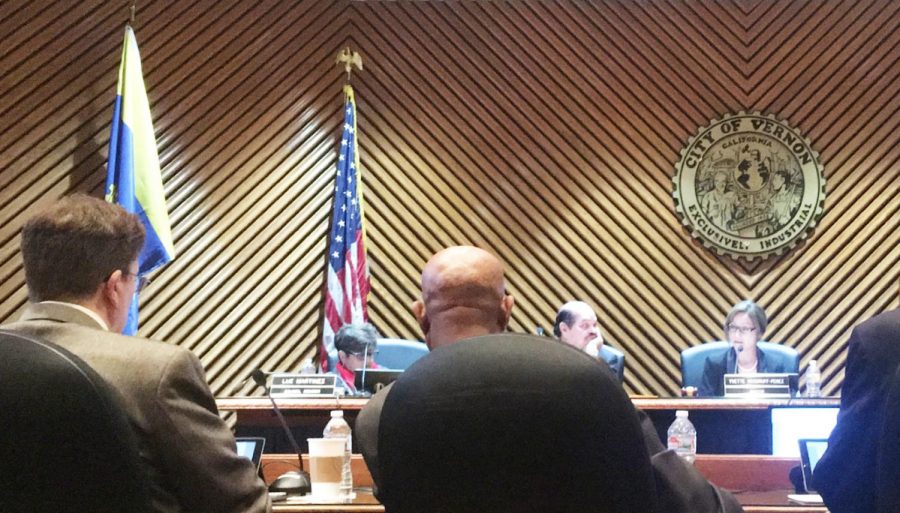 The Vernon city council last week voted to censure mayor, Yvette Woodruff-Perez, for allegedly supporting a local candidate by allowing her to lead a recent flag salute.
Maria Isabel Acosta is one of three candidates running for city council and she led the flag salute at the March 5 city council meeting.
"When she said Ms. Acosta [was] running for city council I knew it was wrong," said William "Bill" Davis, Vernon's mayor pro tempore. "It's not right for the mayor to do that."
State law prohibits the use of government resources for political activity: For instance, to support one candidate for office over another.
Carol Raye Menke and Jason Christopher Roberts are also running for the city council election, which closes Tuesday.
At the meeting, Woodruff-Perez defended her actions by saying that Acosta was the only candidate who showed interest in leading the flag salute and that the other two candidates running for public office were offered the same opportunity. She also said that she got the approval from the city clerk and at no time was she notified by the city staff's upper management that this might be a potential problem.
The city administrator also did not raise any concerns when she talked to him that same afternoon, according to Woodruff-Perez. She added that at the end of that same week, the city attorney said she was not sure if any rules had been violated and stated the city attorney was just worried about optics at that point.
Davis, who proposed to strip the Mayor of her title, said he doesn't "think she is a bad person."
"It is counterproductive and embarrassing to listen to you, Bill Davis, misrepresent the facts on your proposed resolution," Woodruff-Perez said during the council meeting, adding that the criticism appeared to be well-rehearsed political theater.
Ultimately, council members voted 5-0 on the motion to censure Woodruff-Perez but not strip her of her title.
City residents were ambivalent about the issue, with one saying it seemed as if the council was wasting its time.
"I don't think what the mayor did was wrong. If the other candidates were given the same opportunity, it seems fair to me. Other issues could've been discussed during that argument," said Yoselin Miranda, 21, a Central Alameda resident walking near city hall who was told about what had transpired at the council meeting.
Since Vernon's election is a vote-by-mail election only, many votes have already been counted and results are expected to be announced within days.
Community News reporters are enrolled in JOUR 3910 – University Times. They produce stories about under-covered neighborhoods and small cities on the Eastside and South Los Angeles. Please email feedback, corrections and story tips to [email protected]