Weaving a Life for Herself, One Dream at a Time
Former DACA student opens her own online clothing boutique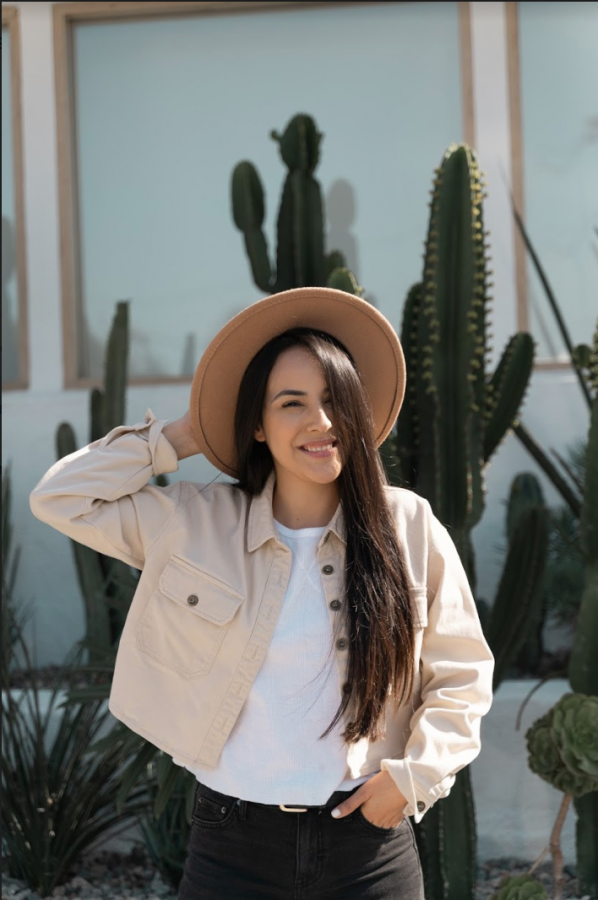 When Maria Garcia was a sophomore at Esteban Torres High School in East Los Angeles, she remembers feeling as if life was full of possibility.
"We would always have people from colleges explain the opportunities that we had if we were great students," she said. "They talked about the financial aid and scholarships that would make our life easy in college."
It wasn't until a year or so later that it hit her: All those workshops weren't for her, an undocumented American. They were for her U.S.-born counterparts.
That's why the Deferred Action for Childhood Arrivals (DACA) program has been a lifeline for Garcia and more than 600,000 people like her. DACA allows recipients to have a temporary legal status and grants them a work permit. However, DACA's future is uncertain: The Supreme Court is weighing the Trump Administration's decision to end the program. Supporters of that decision say ending DACA could allow the United States to better safeguard its borders and lead to broader immigration reform.
As for Garcia and her family, they immigrated to the United States when she was 3 years old in search of better opportunities – like generations of immigrants before them.
She doesn't remember much of the journey across the desert, but remembers her mother giving up her own water when Garcia ran out of hers. That's a gesture Garcia said she will never forget. 
Her mother, Rosy Garcia, said it was a difficult journey, she felt fearful throughout and wondered if they'd ever see her husband again since he was already in the United States.
Sentía "mucho miedo, de la manera que cruzamos…porque traía a mi hija chiquita y pues mi preocupación era ella. Que le fuera a pasar algo o que a mi me pasara algo," she said. "[It was] with a lot of fear, the way we crossed…because I was with my young daughter and my worry was her. If something happened to her or that something would happen to me."
After several days, Garcia and her mother reached her father in Los Angeles. 
She remembers noticing she was "different" as early as when she started elementary school.
"For some reason, like around third or fourth grade, it was really popular to ask everyone where they were born and usually if you weren't born in the U.S, they were really rude and really mean about it so I remember lying and saying I was – until I think I hit like sixth grade when I was like, "OK, who I'm trying to impress here?"      
Over the years, she could feel herself growing resentful about her situation as she realized her disadvantages within the education system. 
"When my friends talked about how much financial aid money they had to spend, I always felt less. I was really angry and bitter with the system," she said. 
She said she worked just as hard, if not harder, to strive toward achieving her dreams but wondered if she would still "end up with the short end of the stick." 
Her life started changing when she learned about Deferred Action for Childhood Arrivals (DACA) and the benefits it would provide for her. That summer, she started to work.
"I had the opportunity to pay my senior dues and…go to college and take advantage of what we call the Dream Act, which helped me pay off most of my schooling," she said.
As she sees obstacles others face like her face in recent years, her perspective has changed: "I'm like, 'Dude, I had it so much easier than other Dreamers,' so now I like to count my blessings."
Garcia continued to work hard toward her goals. 
"I worked my entire way through college. Many nights were sleepless and I saw my college career…different from many of my classmates. Even though I knew I had to work extra hard, it was necessary," she said. 
The hard work paid off: She won three scholarships during her first two years of college. 
In December 2018, Garcia launched her own online clothing business, Del Carmen. The store offers blouses, sweaters, dresses, jumpsuits, accessories and shoes.
"It's inspiring to see a woman with a dream, take a risk on starting her own clothing line and being able to inspire other young women, especially in the Latina community," said Steve Salazar, Garcia's boyfriend.
Several customers interviewed seem to agree.
"What attracted me was the fact that the owner of Del Carmen is Latina and a hustler. You can really tell she takes her time to perfect her online shop and deliver the best she can to her customers," said Karen Cruz, a recurrent customer.
Another customer, Delia Castillo, said, "Everything arrived fast and the website is really user-friendly. I love the touches that the owner gives with each order. It makes it feel special," she said.
Jasmine Gutierrez, who purchased earrings and a shirt from Del Carmen and knows Garcia personally, said she is proud of her friend. "It's great helping small business and I'm all for empowering women," she said.
One of the biggest barriers to success for many small businesses are the resources needed and that's no different for Del Carmen.
"I can't grow it as fast as I want to because of that. But I know nothing is given or easy," she said.
In fact, each small success seems to come after major challenges.
Salazar, who helps Garcia with the business, said we're "limited [by] the camera gear, lighting, or not having access to a proper studio…Locations can also be tricky since certain locations require permits which can be expensive at times."
He said she also faces issues on the business side – "whether it's shipping, product defects, product budgets, and more."
But, he added, "It has allowed her to learn from the experiences which helps evolve her understanding of the clothing business." 
She said she overcame obstacles as a student and it will be no different as a business owner: "I will persevere."