Will technology diminish the role of libraries?
Community members on the Eastside weigh in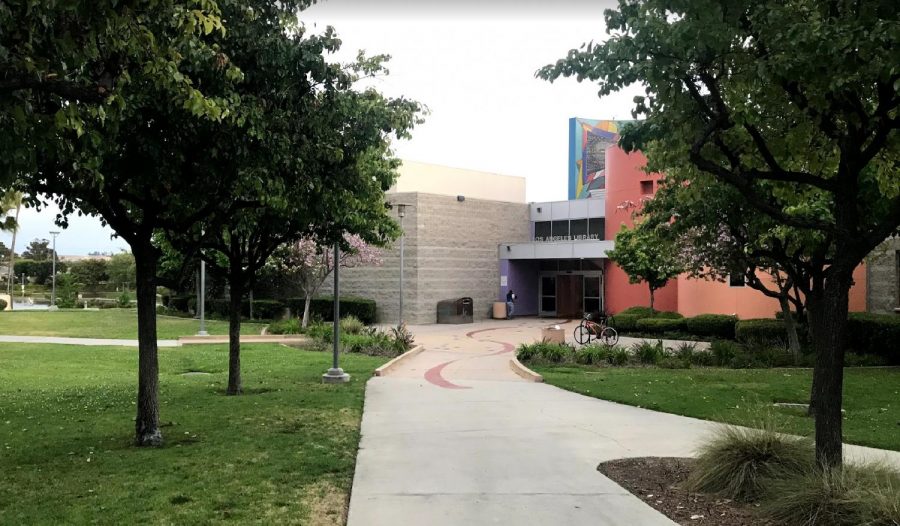 (Scroll down for the Spanish version)
Some people think libraries may not be around forever because of technology. But some local librarians note that people still go to the library precisely because of technology – to use it.
Still, concerns about the diminishing role of libraries and books in society persist.
"Libraries are close to being obsolete as a result of the digital era," said Pablo Olivas, a student at UC Riverside at the time, who was at the East Los Angeles Library.
He said people have easy and fast access to information through the internet, so people are less likely to visit a library when they're in search of information.
That said, Olivas still believes libraries will still be around for the next 20 years or so due to "people who need to find a specific book that is not easily found or for people who like the quiet public [library] feeling."
Another community member, Heriberto Sanchez, said he believes that the digital era and technology are putting public libraries at risk: "Yes it has a negative impact on libraries because people don't go to public libraries anymore."
Sara Lujan, a local library aide, pointed out that technology is not hurting libraries so much as it is enhancing them. "The technology people don't have at home, we have it – such as Kindles and laptops," she said.
What's more, libraries such as the one in Alhambra offer cutting-edge technology such as 3D printing and virtual reality headsets.
If surveys are any indication, libraries aren't going away anytime soon.
"About eight-in-ten adults…feel that public libraries help them find information that is trustworthy and reliable and 76 percent say libraries help them learn new things," according to a 2016 Pew Research Center survey. "On each of these questions, Millennials (those ages 18 to 35 in 2016) stand out as the most ardent library fans."
En español:
¿La tecnología disminuirá el papel de las bibliotecas? 
Miembros de la comunidad comparte su opinión
Por Fernanda Hernandez, Community News
Traducción al español por Jorge Cruz
Algunas personas no creen que las bibliotecas existirán para siempre debido a la tecnología. Pero hay algunos bibliotecarios locales que notan que la gente sigue yendo a la biblioteca precisamente por la tecnología – a usarla. 
Continúan las preocupaciones sobre el papel decreciente de las bibliotecas y libros en la sociedad. 
"Las bibliotecas están cerca de ser obsoletas a resultado de la era digital," dijo Pablo Olivas, quien fue un estudiante de UC Riverside, cual se encontraba en la  biblioteca de East Los Angeles. 
El dijo que la gente tiene acceso facil y rápido a información a través de la red, así que es menos probable que la gente acuda a la biblioteca cuando están en búsqueda de información. 
Dicho esto, Olivas sigue creyendo que las bibliotecas continuaran existiendo durante los próximos 20 años, más o menos,  debido a " la gente que necesita buscar un libro específico que no se puede encontrar fácilmente o para la gente quien le gusta la tranquilidad de la biblioteca pública."
Otro miembro de la comunidad, Heriberto Sánchez, dijo que cree que la era digital y la tecnología está poniendo las bibliotecas en riesgo: "Si tiene un impacto negativo a las bibliotecas porque la gente ya no va a las bibliotecas públicas."
Sara Lujan, un ayudante de la biblioteca local, señaló que la tecnología no está dañando las bibliotecas tanto como las está mejorando." La tecnología que la gente no tiene en casa, nosotros lo tenemos – como los Kindles y ordenadores," ella dijo. 
Bibliotecas como la de Alhambra ofrece tecnología de última generación como la impresión de 3D y los auriculares de realidad virtual. 
Si las encuestas son alguna indicación, las bibliotecas no se irán  pronto. 
Aproximadamente 8 de cada 10 adultos…sienten que las bibliotecas públicas les ayuda encontrar información que es confiable y seguro y 76 por ciento dicen que las bibliotecas les ayuda aprender cosas nuevas," según una encuesta del Centro Pew Research del año 2016. " En cada de estas preguntas, los Millennials (los que están entre las edades de 18 y 35 años,  en el año 2016) resultan como los fanáticos más apasionados de la biblioteca." 
Community News reporters are enrolled in JOUR 3910 – University Times. They produce stories about under-covered neighborhoods and small cities on the Eastside and South Los Angeles. Please email feedback, corrections and story tips to UTCommunityNews@gmail.com.