Women's Basketball Starts Season 1-1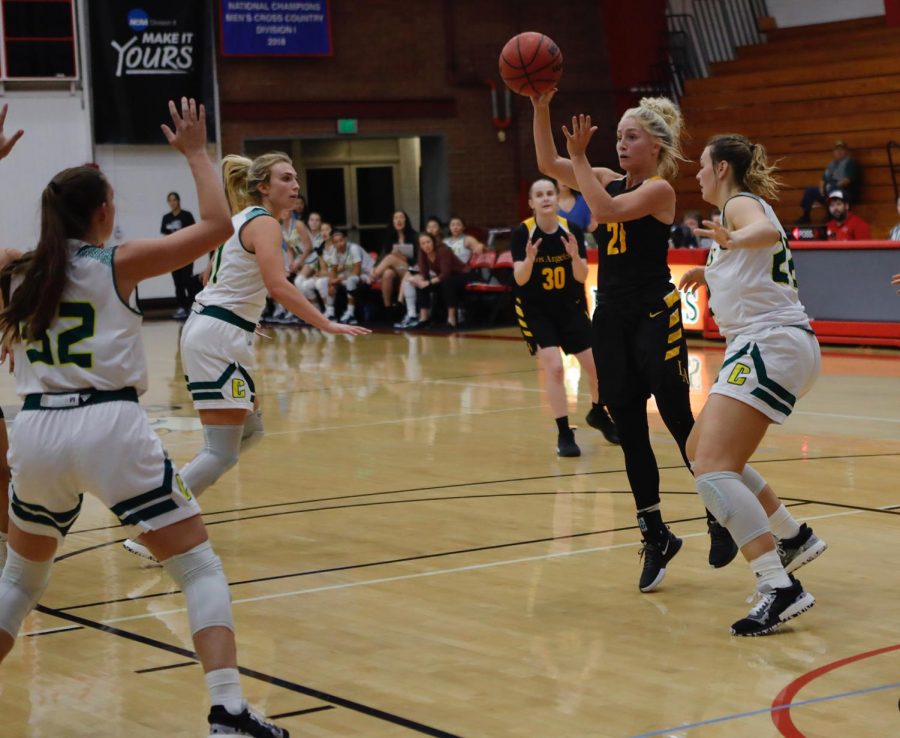 This past weekend, the Golden Eagles competed in the CCAA/PacWest Challenge against Biola University and Concordia University Irvine in La Mirada. 
In Friday's game against Biola, the team started-off hot, scoring the first nine points of the game. Freshman guard Nicole Flennaugh was first to score, knocking down a three–pointer and hitting a mid-range jumper early in the game. Guards Alyssa Fisher and Sydney Bordonaro also scored, building a 9-0 lead. 
Despite the early lead, Biola was not willing to give up, forcing 15 turnovers and staying within reach throughout the game. 
Limiting those turnovers and working on ball control is one of the many things Head Coach Torino Johnson will be working on in practice. 
"A lot of the turnovers we had were  unforced. It's the little things we have to clean up, like over-penetrating and being inaccurate with some of our passes," Johnson said. 
The Golden Eagles never trailed and were 23-57 from the floor, 9-24 behind the arc, and 17-30 in free throws – beating the Biola Eagles 72-67. 
Johnson felt there were a lot of teachable moments in the game. He mentioned that the team had some blown assignments, specifically with screen and roll coverages and late rotations from the weak side to the ball side. 
However, he did highlight his team's willingness to share the ball and take charges. "We were able to run the floor and understand the spacing associated with our offense," he said. 
Flennaugh finished the game with 16 points and 2 rebounds, Fisher had 17 points and 3 rebounds, and Bordonaro had 21 points and 5 rebounds. 
Bordonaro said it felt really good to start the season off with a win. She also shared how much time and energy she puts into the sport: "I came here for a reason, and that is to dominate and win. I play with a lot of passion and heart and I'm going to work really hard for this team." 
That wouldn't be enough on Saturday, as the Golden Eagles fell short to Concordia 57-48. 
They had trouble executing on offense and went 19-75 from the floor, 6-28 from the three point line, and 6-12 from the free throw line. 
"We weren't able to put the ball in the basket as much as we would have liked to, instead we settled for jump shots as opposed to being able to drive and kick the ball out and get the easy points," said Torino. 
Bordonaro finished with 12 points and 4 rebounds, Fisher had 7 points and 2 rebounds, and Flennaugh had 6 points and 2 rebounds. 
The black and gold lost but were still able to force 23 turnovers. 
Johnson said his team is growing defensively and identifying ways to help the helper, "We were able to force them into irate passes, and forced them into making bad decisions with the ball. They were second guessing themselves and we got into their heads a little."
Members of the team feel ready for the upcoming season.
Senior center Rachel DiRegolo said she is excited for this season and is confident the squad is going to shock the conference. "It's a completely different team. We are not the same team we have been [in previous] years, and I think that is what everyone is expecting. With our coaching staff and new players, I am ready to rattle some people."
This will be Johnson's first year as the women's basketball head coach and he said he wants the fans and opponents to expect his players to not give up: "We are going to fight and put ourselves in a winning position, we have a lot of returners and we are trying to send our senior group to a CCAA championship." 
However, for now, he says they will be focusing on taking baby steps and building on their style of play.