Yet another sign of neighborhood changes: Vegan restaurant opens on the Eastside
NextMex Express, part of the Doomie's vegan chains of restaurants, opened its doors on the Eastside late last year — sparking a mixed reaction from residents.
Some bemoaned the development as a sign of gentrification while others said they're delighted to have more healthy options.
Luis Perez, a vegan, said he's thrilled about the new location on the Eastside. He works in Alhambra and used to drive to the Hollywood location.
"There are not very many exclusively vegan places where you just come in and you know that everything is vegan on the menu," he said. "At other places I kind of have to ask a million questions: [Is] your rice made with chicken stock?"
Most other Mexican restaurants in the neighborhood have few, if any, vegetarian options.
A vegan restaurant is probably not as problematic as national franchises that are moving into the neighborhood, said Luis Avina, an East L.A. resident.
"Honestly there's so many big chain company restaurants that are contributing to gentrification already. Opening a vegan restaurant would add to it…but not as much as other big chain fast food restaurants," he said.
Ricky Munoz, who also lives in the area, said the gentrification he has seen in Koreatown, where he grew up, is disappointing and hopes the Eastside's fate is different.
"That vegan place is going to do just that. Hopefully it doesn't but slowly and surely it most likely will," Munoz said.
The chain has three locations: Doomie's and NextMex, next door to each other in Hollywood, and the newest member, NextMex Express on the Eastside.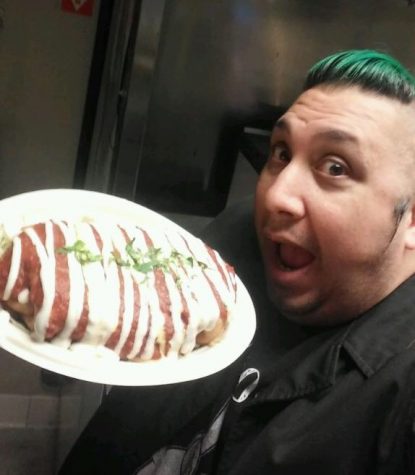 The owner of the chain, Chef Doomie, said his restaurant is yet another Mexican restaurant, so in some ways, it is providing similar options to what is already in the neighborhood.
"In terms of what we are doing, I don't know if we are part of the gentrification or part of… the status quo…because we are kind of in the middle of both in the sense of we didn't really bring in something different," he said. (Chef Doomie, whose real name can easily be found in public records, said he prefers using his business moniker in news articles — such as a Vice story a little over two years ago and a Toronto Life magazine story earlier that year.)
He added that Americans' eating habits and preferences are changing nationwide: People want more vegan options and want to eat healthier, generally.
Chef Doomie also said that he didn't come to the Eastside thinking that he was going to be part of the gentrification movement: "I came in not thinking like, 'Okay, I'm going to start changing this neighborhood.'"
Instead, he said he simply thought: "I bet you that a lot of the people that have been my customers…have traveled to Hollywood [to eat at my other restaurants]. I bet you they live in this area."
He added that his intent was to serve everyday people in the neighborhood and he wasn't seeking a high-brow clientele; In fact, meals at his restaurant mostly range from about $7 to $8.
Community News reporters are enrolled in JOUR 3910 – University Times. They produce stories about under-covered neighborhoods and small cities on the Eastside and South Los Angeles. Please email feedback, corrections and story tips to [email protected].