A struggle to build trust between community and police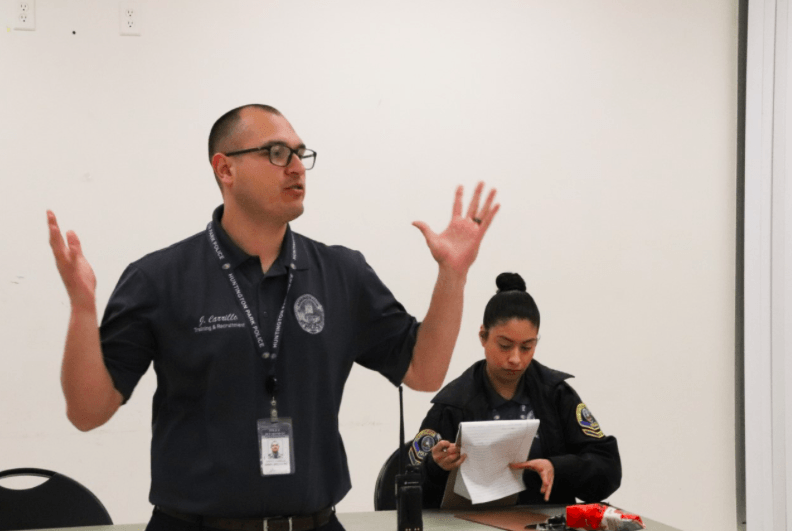 Many Americans report not trusting law enforcement in recent years because of media reports of police brutality, racial profiling and deportations of undocumented immigrants. 
 So police in some cities near South L.A. hold monthly gatherings to gain trust and build bridges with the community. 
 But it's catch-22: People often don't attend — because they don't trust the police. 
 "I get a lot of calls where people say, 'It's not that I don't trust…you guys [but] you may work with ICE.' People think we're the deportation police but we're here to serve and protect no matter who you are," said Huntington Park police administrative specialist Johnny Carrillo.  
 Even the muffins and strawberry lemonade served at a recent Huntington Park "Meet your Police and City Council" event didn't draw a big crowd. Police personnel Carrillo and cadet Cristina Peralta and the Explorers, a group of teenage scouts serving the police department, spoke with five local residents about crime-related activities in the area. 
 Other South L.A. cities such as Lynwood and South Gate have similar "meet and greet" events with police officers. 
 "We always tell them to call us because we can be there 24/7 everywhere in the city. We strongly recommended them to call the police department even if it's something small, even if they're scared. We also ask them if they want to be anonymous," Peralta said after the event. She added people who call with real emergencies repeatedly become a priority for officers. 
 More than 400 violent crimes and about 1,800 property crimes were reported in Huntington Park in 2017, according to Neighborhood Scout, based on crime data from the FBI. 
 Huntington Park has had a history with gang violence, so it's possible some people don't want to come forward with information for police out of fear, Carrillo said. 
 More people seem to attend police meet and greets in neighboring areas that have local neighborhood watch groups, he added. 
 Moises Velez, a longtime Huntington Park resident, said he showed up because he said he knows citizen involvement with police helps makes a safer and closer community. 
  "I just want to be more involved with the community," Velez said. "I see there's struggles all over the community and I want to be helping out more. We know that when you come out and engage with [the police], they can be more responsive." 
Community News reporters are enrolled in JOUR 3910 – University Times. They produce stories about under-covered neighborhoods and small cities on the Eastside and South Los Angeles. Please email feedback, corrections and story tips to [email protected]