An accident that could have ended his life gave him a new one
The Alhambra's "Wheels Up" exhibit showcases Martin Vogel's artwork and others'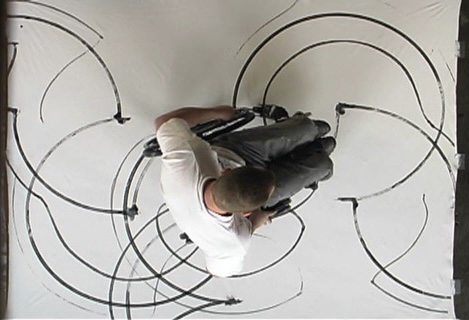 At the age of 21, Martin Vogel was dispatched from rehabilitation after a life-threatening motorcycle racing accident that left him paralyzed from the chest down.
He knew that newly paralyzed adults often experience depression and trouble adapting to their new situation.
"The wheelchair thing can be a nightmare for some people, like wearing a pair of lead shoes," he said.
As Vogel lay in the hospital bed after his accident, he decided he would need to change his outlook on life. He realized that he couldn't compare his new life as a paraplegic to his old life.
What struck him is that he had been given an opportunity that most people will never get: a brand new life.
Soon after he was released from the hospital, his friends took him to Chaney Trail in the foothills of the San Gabriel Mountains. This is a smooth dirt trail leading down to a river — perfect for Vogel's wheelchair.
Heading down the trail, Vogel stopped about three times waiting for his friends to catch up. His new wheelchair allowed him to go much faster than his friends on foot.  Each time he stopped, he would roll around in the dirt a little bit, just killing time.
On the way back up, Vogel noticed the spots in the dirt where he had previously stopped and rolled around.  
"What the heck?" he thought to himself. "That looks like art."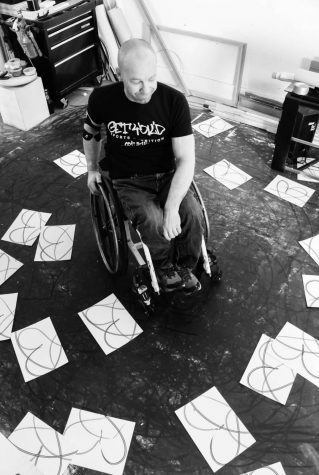 Vogel, who lives in Pasadena, has artists on both sides of his family, and he remembers his mom taking him to art museums as a young child. As a 5-year-old, he drew portraits of himself and his family members. His love of art continued as he grew older and he ventured into different media.
He never thought his next medium would be dirt.
After it dawned on him that he could use his wheelchair to draw lines on the ground, Vogel began practicing. He went to areas around bus stops, where soot from the buses collected on the sidewalks nearby. In this soot, he drew designs while waiting for the bus.  
"Almost every day it would be covered over with more soot, so it was like a renewable resource," he said.
His next step was to begin painting on canvas. However, Vogel only had one wheelchair at the time, and he didn't want to get it covered in dirt or other art supplies. It took him about one year to acquire a new wheelchair, so he could dedicate his old one specifically to art.  
Now over 30 years later, Vogel is an accomplished abstract artist and an advocate for the disabled art community. His work has been displayed at numerous different installations across Southern California, and he has created hundreds of pieces for privately-owned spaces.  
Currently, he has several pieces hanging at The Alhambra as part of the Academy of Special Dreams' "Wheels Up" exhibit. Vogel met the founder of the organization, Michael Dergar, about 10 years ago while painting in an alley behind his art exhibit in Old Town Pasadena.
Dergar started the organization in order to give a voice to the disabled art community.  With the help of Megan Moloughney, senior development manager at The Alhambra, the "Wheels Up" exhibit will be on display until October.  
"Anyone can come to the property," Moloughney said.  "We're displaying artists with disabilities. There's lots of different paintings and photos and different mediums."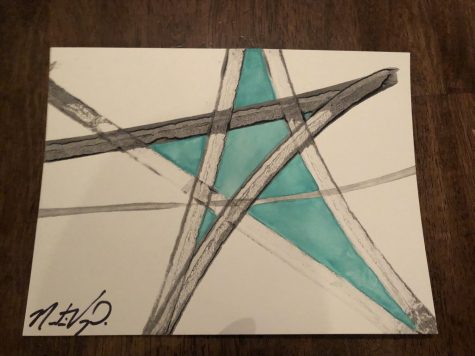 In addition to being one of the featured artists, Vogel is an advocate for the program.
"Since the first time I met him on the street, we've been working together to help bring public awareness and recognition," Dergar said. "He's basically the face of the Academy when it comes to leadership and never giving up because of a disability."
It's not easy to navigate a world that isn't as accommodating for people with disabilities. Nearly 1.7 percent of the American population reported living with some level of paralysis, according to the Christopher & Dana Reeve Foundation.
Even with a disability, Vogel said his new circumstances have allowed him to make a career of both art and extreme racing – the very thing that left him paralyzed.
He is currently a world champion professional wheelchair racer and is preparing for the Long Beach Marathon at the end of the month. He said he is also working on launching his own wheelchair combat sport, an idea that he has patented.
"If I ever made a mistake," Vogel said, "it was never a mistake because this is a brand new life, and everything's just kind of a learning experience."
The "Wheels Up" exhibit will be on display until October at The Alhambra, at 1000 Fremont Ave., Alhambra, California. There is no admission fee. The gallery features the work of Vogel and other  artists with disabilities from the Academy of Special Dreams.
Community News produces stories about under-covered neighborhoods and small cities on the Eastside and South Los Angeles. Please email feedback, corrections and story tips to [email protected].