Two graduate artists on display in on-campus exhibition
This article has been edited after posting, for a correction.
Two Cal State LA graduate students, Boone Nguyen and Devanshi Purohit, were featured in this spring's Graduate Thesis exhibition.
The artists' exhibits were displayed at the Ronald H. Silverman Fine Arts Gallery on Cal State LA's campus. According to the director of the gallery, Dr. Mika Cho, they hold two exhibitions for graduate students each year, towards the end of fall and spring semesters. 
Purohit's master's thesis project exhibition titled, "The Blended History Painting: Reconstructing Indian Miniature Paintings" captured an ancient Indian art form using a combination of contemporary and traditional painting methods with symbols, motifs, scenes in nature and architectural structures. Peacocks and lotuses appeared in most of her paintings as the repeated image, or motif.
She used trees, animals, clouds and other natural elements as symbols. Purohit said that dark clouds represented the rainy season and a clear sky meant it was summer.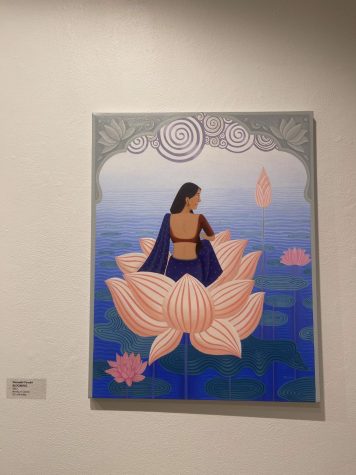 "All the elements which I've used in my series are seen in traditional paintings, it's just the form and placement is different," Purohit said.
Purohit did not include faces or figures, such as kings or rulers, in her series. Instead, she focused on scenes that depicted nature so that her artwork was not "limited to a specific time period."
"I just play with the motifs and try to create a composition that doesn't have a cultural connection…so anyone can relate to it," Purohit said "If you hadn't already seen a miniature and you see my painting, you would find it beautiful."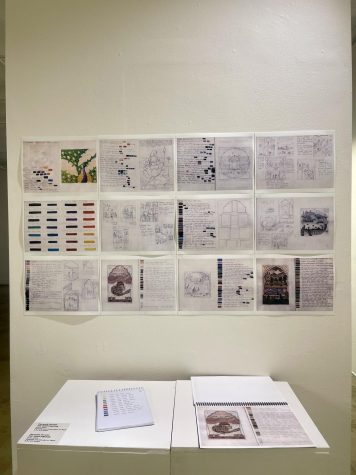 Purohit put her creative process on display with pages from her sketchbook that showed the color palettes for each painting.
Nguyen's master of fine arts thesis project titled, "A Vietnamese Refugee in Azilán, An Autogeography," provided an immersive experience with video stills, archival footage, recycled televisions and projected images.
His series of video stills titled, "The Work of Memory," served as a "living archive" of his travels to Vietnam since 2012.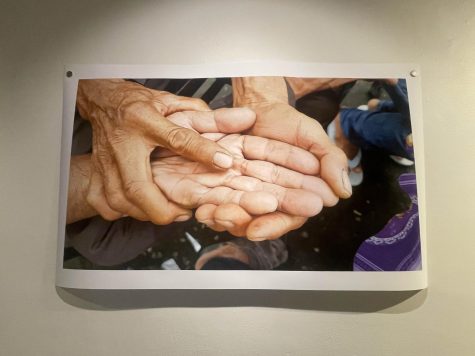 One image showed his cousin preparing bananas to feed to the fish that live in a "bomb crater pond" left behind by the Vietnam war.
The United States dropped 7 million tons of bombs on Vietnam, Laos and Cambodia during the Vietnam war, which left large craters in the ground. The craters have been filled with water and are used to raise fish and grow plants, such as lotus.
In another image, Nguyen's Aunt, who recently passed, is seen walking toward the grave of her late-husband who died at 30 years old in the war.
"Part of memory is about connecting with people in intimate ways to really understand the history," Nguyen said.
A video of an old TV sitting on the street in East L.A. played on one of his recycled televisions. The TV within the TV displayed an image of a Vietnam "bomb crater pond," which Nguyen said was his attempt to "connect the two spaces."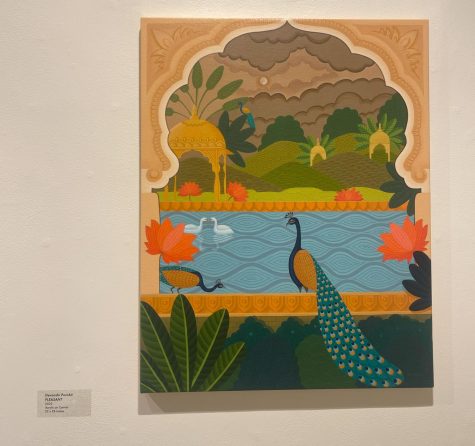 At the end of his exhibit, he projected a video that documented the preparation leading up to a wedding and the slaughtering of a pig and a cow for food.
In the video, Nguyen's cousin noticed that the coconut tree he harvested was sick and removed beetle larva from its insides. According to Nguyen, coconut trees are a major crop in Ben Tre Province.
"That's passed down through intergenerational knowledge, through the memory of the people there and the elders in the village," Nguyen said. "It's really going to be interesting and important to think about what happens to this knowledge as more and more young people move away from the rural area to live in the city. Who will take over these tasks?  To whom will this knowledge about these very important practices be passed?"
Two chairs sat on either side of a screen that played a video of a man performing karaoke. Nguyen said he wanted to "'provide a sense of intimacy" and allow people to "enjoy the moment" with them.
Images of patterns from Nguyen's mother's ao dai were projected onto a plain white version of the traditional garment. The patterns faded into images of flames and his families' burial sites.
If you are interested in learning more about both artists, students, faculty and staff can contact the Ronald H. Silverman Fine Arts gallery on campus and check out their Instagram, @ronaldhsilvermanfagallery.