From beauty queen to journalist
My story of accomplishing my goals and growing as a performer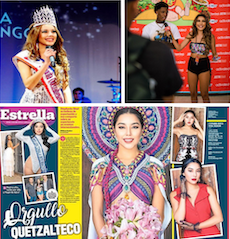 As a little girl growing up in Germany, I loved playing around with my mom's makeup and high heels.
I would tell my mother how I wanted to be on television one day, and she would just laugh.
A few years later, my mom offered to enter me in dance contests. But I was too shy at that point, making my mom mad.
By the time I was 11, we had moved to Guatemala.
I started to enjoy the stage and became comfortable with public performances. I would participate in any little dance contest being held at the local mall in Quetzaltenango, Guatemala.
I later asked my mother if she could enroll me in beauty pageants.
She did. It was thrilling – until one contest I'll never forget.
I had made it to the top three finalists because I was ranked one of the most eloquent public speakers.
Then, in the final round, we were asked to deliver a short speech on one of the five topics that was handed to us before the coronation night. I was asked: "What would you do to help slow down climate change?"
I was not sure how to answer. It was the one question I had not practiced enough, so I improvised, stumbling through the speech. 
That's when the audience began to "boo" me.
I remember feeling embarrassed and defeated. I was only 11 years old.
Not only did I not win the pageant because of that, I took a hit on my self-confidence.
But I decided not to give up on pageants. Despite having a bad experience, I loved being on stage and public speaking.
I wanted to prove to myself that I could overcome that horrible moment.
I spent hours studying current affairs and preparing to discuss them before my next pageant.
The loss I faced made me stronger.
By 18, I had won five local pageants, including Miss Quetzaltenango, which is the highest title in my city.
My childhood dream of being on TV also came true: In my teens, I was also a host for a local youth channel.
That gave me the chance to interview many upcoming Guatemalan artists such as rock and pop band Malacates Trebol Shop.
But I decided that I wanted more than what I could accomplish in my small hometown in Guatemala, so I moved to Los Angeles with my grandmother to pursue my dreams and make a name for myself.
I attended East Los Angeles College, where I majored in journalism and communications. I stayed active in beauty pageants and started to build a modeling career in the Latinx media industry. I modeled for LA Fashion Week and was booked for gigs such as music videos or photography modeling for online clothing stores.
I won three major pageant titles while living in LA: Miss Guatemala U.S. 2015, Miss Earth Guatemala 2016 held in the Philippines, and Miss Guatemala International 2019 held in Japan. 
Although the pageants took my focus away from my studies, I don't regret them because they gave me new life experiences and strong networking skills. They also opened a lot of doors and ultimately guided me to my dream job today.
I work as a host for a company called Bobby Dee Presents, a concert booking and promotion company.
My job is to interview the crowd, and my favorite part is interviewing the artists for the company's social media pages.
For years, getting a bachelor's degree was not a priority.
In my mind, I already had a job as a journalist.
What changed for me is the realization that no one in my family, besides my mother, has a college degree. I wanted to continue my mom's legacy of breaking this curse in my family and to prove not only to my family but to myself that the women in our family have what it takes to be successful.
I realized I had been on my high horse and had not really thought about my future in the long-term.
Youth and looks can only get you so far.
I want to make sure I don't have to struggle in the future, that I won't be disqualified from positions that require a degree.
That's when I decided to transfer to Cal State LA's journalism program and take the next step in my life.
Pageants and hosting taught me that I am capable enough to achieve anything that I set my mind and heart on. For me, that's now a college degree.