Cal State LA celebrates Dia de los Muertos
Audience members danced in a circle and were led to the main plaza with joined hands to represent unity across cultures. A traditional Aztec dancer asks attendees watching to participate. 
This was part of the Dia de Los Muertos event on the Cal State LA campus on Oct. 27 titled "Como te extraňo: A night to remember," which featured various cultural performances and activities in observance of the traditional Mexican holiday celebrated on Nov. 1-2. 
The Cross-Cultural Center and the Chicanx/Latinx Student Resource Center organized the event in collaboration with several student organizations.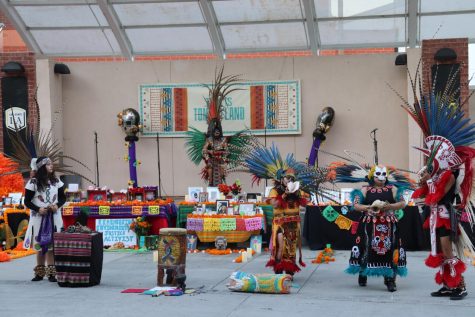 Danza Azteca Xochipilli, an Aztec dance troupe, dressed in colorful feather-like headdresses, opened the event with a choreographed performance accompanied by traditional drum-based instruments. The group has been performing together for over 20  years, bringing awareness to practices often forgotten within the Latin-American cultural context.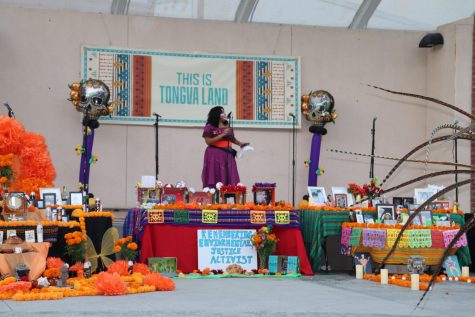 Following the performance was an original poem by Guirellmo Tejeda, brother of Laura Tejeda, who acts as the assistant director of the university student union. The poem reflects the cross-identity struggle that Latinx Americans often face as a result of growing up between two different cultures. 
Several tents held activities such as face painting, miniature kite making, and coloring. Free food such as tamales, Pan de Muerto, and sugar skulls were also available for students to enjoy. 
Natilyn Theodoro, a sophomore and first-time attendee, expressed what incentivized her to volunteer at the event. 
"I heard there would be altars and other things that are a part of my roots, so I was interested," Theodore said. "My parents are from Mexico, so I feel happy to know that the university could provide such a connection to my culture."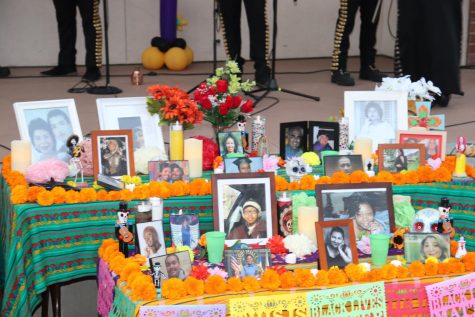 A Dia de Los Muertos altar, also known as an ofrenda, is used to display photos of loved ones passed and is decorated with unique items or food that the person had cherished in life, as well as marigold flowers. The plaza was decorated with altars with displays of loved ones chosen by students. 
Musical entertainment also included a performance by the Mariachi class, music 4309, led by the instructor, Cynthia Reifler-Flores. It is an ensemble class with no previous musical experience required, in which students learn to play instruments and sing. 
Reifler-Flores, who trained as a classical violinist, discussed her appreciation for mariachi music.  
"I love its community spirit and the cultural context of mariachi," said Reifler-Flores. "In mariachi, we accompany families and play for a baby's birthday and baptism. We also play for quinceaneras, anniversaries, and even funerals. So we accompany families throughout their journey." 
Jesenia Quintero, a senior, feels the school should continue to host similar events. 
"I think it's important to highlight our cultural events, so people are aware of them; they can also participate and to see how diverse the community is," said Quintero. "When it comes to events like this, specifically Dia de Muertos, the most important thing is to remember those who have passed. I had forgotten about my uncle who passed away, and throughout the whole event, it made me remember."