Cal State LA community shaken by a nearby stabbing
Some Cal State LA students are in shock after reports of a stabbing less than a quarter of a mile away from campus at Valley Food Liquor on Friday, Mar. 3 at 9:08 p.m.
According to a report on Citizen, an app that gives live reports of local crimes by using radio antennas to monitor 911 communications, police responded to a 911 call at 8:57 p.m. for a reported stabbing. At 9:14 p.m., police reported that the suspect may have been seen in the Cal State LA area.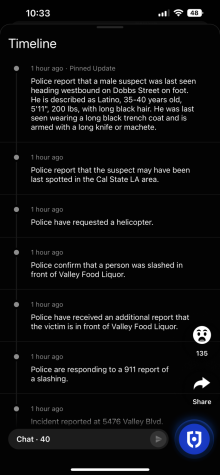 The suspect is described as being a 5 foot 11 man who looked 35-45 years old with long black hair, weighing approximately 200lbs. He was last seen wearing a long black trench coat and armed with a long knife or machete. The suspect was last seen heading westbound on Dobbs Street, by foot.
No additional details about the status of the suspect or victim have been released.
"We don't have any additional information in this case at this time," said dispatcher Rodriguez, an employee at the Cal State LA police department. "It happened off campus, which makes it outside of our jurisdiction. LAPD Hollenbeck division took the case. As soon as we have any updates, we will have our police administrative group send out an email to everyone who is affiliated with campus."
The Hollenbeck Police division declined the University Times' request for comment.
In the meantime, students like first-year Elizabeth Anaya and grad student Nicolas Diaz, who both live and study at Cal State LA, felt shocked and concerned following the incident.
"I have a lot of concerns," Anaya said. "I was very scared at first. It was very shocking, especially after there was a shooting near campus earlier this week as well. I personally feel like there's decent security on campus right now, but I wish the surrounding community was safer."
Diaz felt similarly.
"It was disturbing to say the least," Diaz said. "It's concerning that such things can happen in such close proximity to our campus and especially now that it seems like these incidents are occurring one after another. I don't really go out into the community very much, I mostly just stick to my classes and my dorm."
Other students like fourth-year Abel Guillien don't feel unsafe, but do advise that students be aware of their surroundings.
"It's really sad to hear, and I hope the victim has a speedy recovery," Guillien said. "I don't necessarily say that I feel safe or not, just cautious. I mean the campus in itself is near East L.A. I grew up in the area, and you just gotta watch your step."