Cal State LA Loses to No. 1 Cal State San Bernardino in Heartbreaker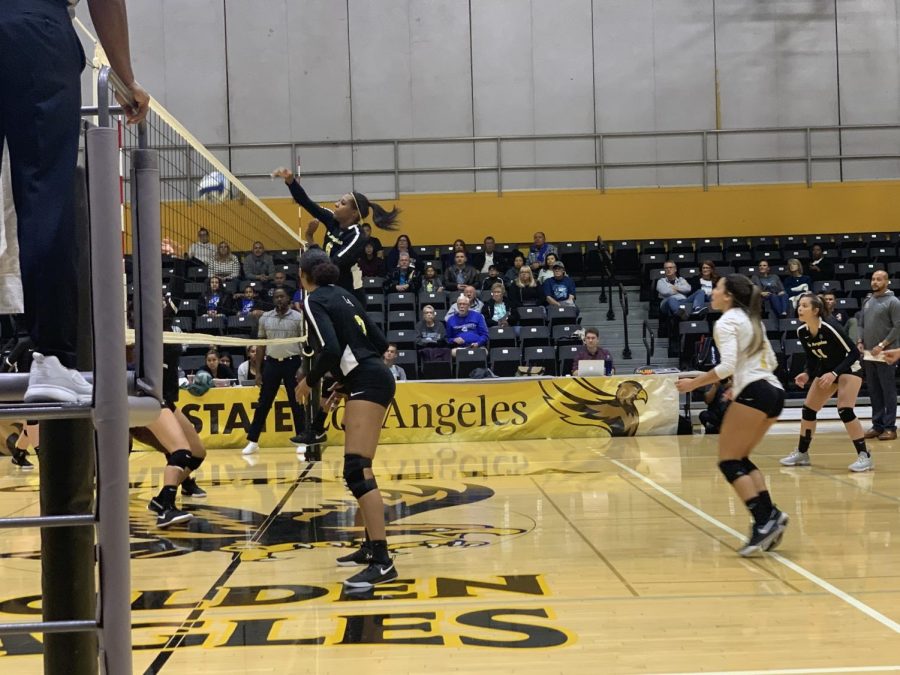 Cal State San Bernardino showed why it's the number one team in the country as the Golden Eagles fell again to the Coyotes 3-1 on Friday. However, the match ended with a controversial call.
The Coyotes led the Golden Eagles in two major categories. They had a 59 to 52 advantage in kills, and a 13 to 8 advantage in blocks. The black and gold led the game in aces, with a 9-2 edge. Errors were an issue for Cal State LA the last time the two schools faced, and the squad had the same issue this go around committing 23 errors in the match. 
Outside hitter Alexis Cardoza led the Coyotes with 26 kills. For the Golden Eagles, outside hitter Karla Santos led with 14 kills and 15 digs, while outside hitter Mickayla Sherman contributed 13 kills. 
Cal State LA lost the first set 25-17. In the second set, the Golden Eagles tied it up, winning 25-22. In the third set Cal State LA trailed throughout and lost 25-20. 
The fourth set was close throughout. The Golden Eagles were down from the start and rallied to tie the set at 22-22. After trading points, the Coyotes committed an error, and Cal State LA took a narrow 24-23 lead. 
Outside hitter Alejandra Negron served the ball to try and end the set, but the ball struck the net, tying the game at 24-24. The Coyotes scored soon after giving them a 25-24 lead. 
The Golden Eagles gave it their all to stay in the game, while Cal State San Bernardino fought to end it. A Coyote player got a match-winning tip, but many of the Cal State LA players were frustrated since they felt the opposing player's hand had crossed over the net, which is a violation. The main referee made a decision, and gave the deciding point to the Coyotes.
"Horrible," said Cal State LA outside hitter Mickayla Sherman on the controversial call. 
Sherman added: "The tough loss is motivating us to work harder, and basically this sets the tone for the next game. To fight very hard." 
Head Coach Juan Figueroa believed that despite not playing their best, the Golden Eagles still had a chance to win. "We had opportunities there, even by not playing great volleyball. We had many opportunities and we didn't take advantage of them. The end results are a reflection of that."
Figueroa hopes to continue to improve on the team's consistency saying: "I've been talking about it throughout the season."