Cal State LA teams with the YMCA and Optimum Seismic to help more than 200 families
In an attempt to support the community, Cal State LA partnered with the Young Men's Christian Association (YMCA) of Metropolitan Los Angeles and Optimum Seismic for the fourth time to help supply meals to those that have struggled to provide for themselves and their families due to the pandemic.
Belen Vargas, the associate vice president for operations and chief mission officer from Cal State LA, was involved with coordinating the food distribution drive-thru at Crenshaw Family YMCA on Oct. 15.
The event was open to the public, with no registration or sign-up required. Around 200 families who attended this event drove up to the food distribution location and picked up breakfast and lunch. Packages included fruits, vegetables, canned food, and bread, to name a few. 
Vargas said it was essential to "provide the kind of necessity of life, which is food" to communities in need and added that it was "absolutely critical" during these unprecedented times. 
The safety of everyone who attended and volunteered at the event was the number one priority. Vargas said that the attendees and volunteers were "social distancing, mask-wearing, and wearing gloves as well." 
Optimum Seismic, an earthquake retrofit company, was a massive contributor to the event and the previous three events. It paid for the resources to have every event streamed live through Facebook to raise awareness about the event. According to Vargas, by the company publicizing the four events, it encouraged people to see how important it is to help out communities in need.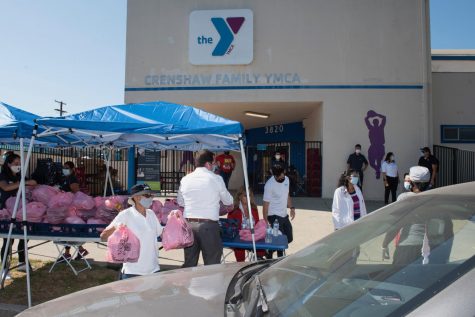 As part of the Achieve LA program, launched by the university, YMCA, and the office of Los Angeles Mayor Eric Garcetti, whose goal is to serve under-resourced families within the most vulnerable communities in Los Angeles County.
Vargas mentioned that the purpose of the program is to work with families and youth who live near the four YMCAs and to provide them with all the support and resources they need to get into college and graduate.
The first distribution drive-thru was held at Southeast-Rio Vista YMCA. The second drive-thru was held at the Weingart YMCA Wellness and Aquatic Center and the third location was at the Weingart East Los Angeles YMCA. With all these food distribution events, there were close to 1,000 families from the communities who were able to pick up meals.
Vargas expressed the importance of the school's engagement with the community: "Over 80% of students come from the surrounding community [and] we really see the students and community as one."
As chief mission officer and Cal State LA alumni, Vargas said that the mission of helping out students and the community has been "a long-standing priority of this institution."