Cal State LA honors veteran students
"Being in the Air Force opened a lot of doors for me," said Itzel Barakat. "And in a way, it's given me a second chance." 
Barakat served as an aviation operator in the U.S. Air Force. She is now pursuing a bachelor's degree in psychology with plans to attain a post-graduate education and open a wellness center for holistic therapy. Barakat was one of the Veteran students at the in-person Cal State LA Veterans Day ceremony, speaking about how serving in the military shaped their life.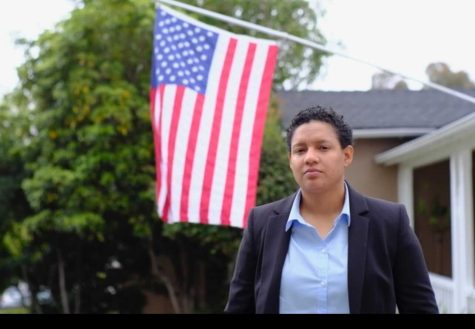 In honor of Veterans Day, the Cal State LA Veterans Resource Center hosted a Veterans Day ceremony on Nov. 10 at the Student Union Plaza. This was the first ceremony held in person since 2019. The event was hosted by Cheyenne Casa, the ASI military-connected representative, and featured speeches from Itzel Barakat and Lauren Anderson, two student veterans at Cal State LA. 
Anderson, a fourth-year nursing student, served as a medic in the U.S. Air Force. During her career, she did four and a half years of active duty service and served another two and a half years in the Air Guard. Now, she is pursuing her degree at Cal State LA in hopes of becoming a registered nurse. 
"I do feel honored on Veterans Day, especially here," said Anderson. "Most of the time, I usually like to take part in our veteran's ceremony. I'm usually one of the people that they call to answer the questions for the audience." 
Anderson recounts her experience in the Air Force. "I would say being a veteran has given me a lot of adaptabilities," she said. "Being in the military, you can change either your job or your clinic or your base or your change of command. It's a lot of change and a lot of change very rapidly sometimes. So for that reason, I would say you learn to be very adaptable and valuable and go with whichever your group or squadron is. Whatever their new goals are, you can adapt to those quickly."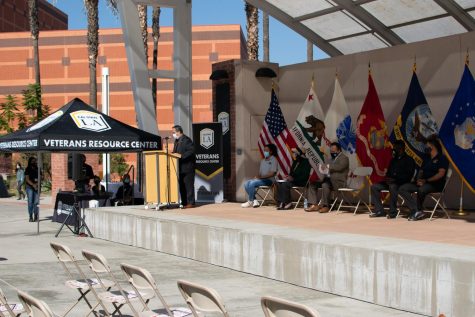 Veterans Day is a federal holiday observed on Nov. 11 every year in honor of the brave individuals who have served in the U.S. military. It is a day when veterans of all ages, branches and backgrounds are honored. The Cal State LA's Veterans Resource Center (VRC) offers many opportunities, including scholarships and grants for military-connected students and opportunities to socialize with other military-connected students during coffee hours.
"A lot of people don't know about all of the resources that we offer because our office is in the basement, but we offer a lot of great resources to veteran affiliated students," said Katelynn Castro, a veteran peer mentor at the VRC. 
"One of the services that we really provide is a connection with the resources we have here internally on campus," said Cesar Gonzalez, the director of the VRC. 
More information about the resources offered at the Veterans Resource Center can be found here.