'Cared straight' out of gangs
'One campus, one book' highlights author and former gang member Luis J. Rodriguez
"My story is that I wasn't scared straight out of gangs. I was cared straight," said Luis J. Rodriguez, book author of the memoir: "Always Running: La Vida Loca: Gang Days in L.A." 
As part of the One Campus, One Book program, the University Library's mission is to select reading material yearly to encourage a sense of community at the school. For Rodriguez, his book is about a very defiant and troubled young man. But through the help of a mentor, he found someone who cared enough to get him out of drugs, prison and gangs.
At the heart of the book, Rodriguez believes gang members can be helped.
Rodriguez saw that long ago in his son, Ramiro, who got wrapped up by gangs in his teenage years.
"I didn't want to get rid of him, though. I felt like throwing him away, because my parents pretty much pushed me out for doing the same thing he was doing. But I couldn't do it. I couldn't do it. I had to stand by him," said Rodriguez.
After an original sentence of 28 years for three counts of attempted murder, Rodriguez's son was out in 13.5 years for good behavior in 2010.
Rodriguez added, "I brought him into this world, I have a responsibility to work with him."
As the author wrote in his introduction, he wrote this book for his son. It's about the reality these kids will face, the violence and drugs.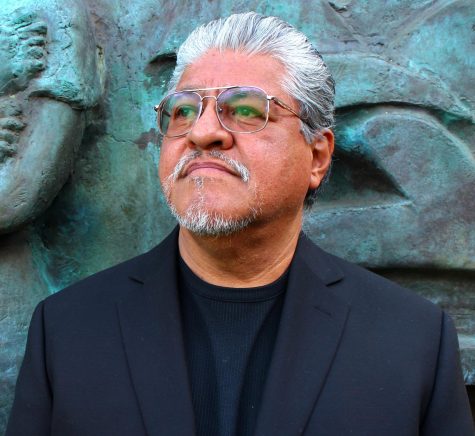 Through his work at Youth Struggling for Survival (YSS), an empowerment organization for young people, Rodriguez aimed to help kids find resources to keep them out of gangs.
During the founding of the group in Chicago, it gathered parents and other organizations to create a peace network across 12 communities for over 200 kids. Sanctuaries were created for local youth to hang out and avoid harassment from the police.
Rodriguez said they even got local gang leaders to stop the drugs and violence in exchange for jobs and education. He added, however, there was resistance met from some of the community.
"Businesses didn't want to hire these kids. The police didn't want to stop harassing them. And the schools… they closed the doors [to them]. And unfortunately, we couldn't sustain the peace that we were trying to do," said Rodriguez. "But it was worth it."
He believed that they created a precedent for something that could exist with a wide support from the community. Rodriguez continued his work by speaking at schools and prisons, helping turn the lives of those in gangs. 
Rodriguez called programs like Project Rebound, a program for formerly incarcerated individuals to get a college education, "invaluable." He's gone to prisons for over forty years teaching creative writing and performing poetry. He added that it helps dispel the narrative that these prisoners can't offer anything to society.
"I see poets and novelists, script writers, and artists, and musicians are all there. Helping them develop those skills becomes a very important part of redemption," said Rodriguez.
For 25 years, Rodriguez worked with members of the gang MS-13 in Honduras, El Salvador, Guatemala and Los Angeles. Where others saw  "the worst of the worst," he saw change in now former members.
He added, "People want to make it simple. Gangsters, they're all bad. They're all criminals, let's put them away. And those who are not in gangs are good people. Why is that that simple?"
The prison and police systems is where Rodriguez saw major issues when it came to healing and growing. He cited the militarization of the police being more harmful and damaging to the relationships it has with the community.
Instead of feeding more money into prisons, Rodriguez proposed using some of that funding to assist sports and arts programs; helping parks and schools, tying in to his mission to help the youth.
Rodriguez said his son went on to become clean, sober, gang-free, and a mentor for kids.
"In the long run, it did work," Rodriguez added. "I wanted him to know that we can own, not only the bad things you've done, but he can pass [onto] his own transformation."
It wasn't about saving kids for Rodriguez. 
To him, it was about giving them the proper tools and resources so they don't have to resort to falling into a gang. To stop punishing felons even after they've served their time, and welcome them back into society. Not just presenting the reality, but addressing it.
The author noted his story was just one out of millions. It wasn't an issue just locked to inner cities or any skin color, but to anybody who doesn't have the "means to thrive."