Celebrating Our Vets
The University honors its Veterans at annual ceremony.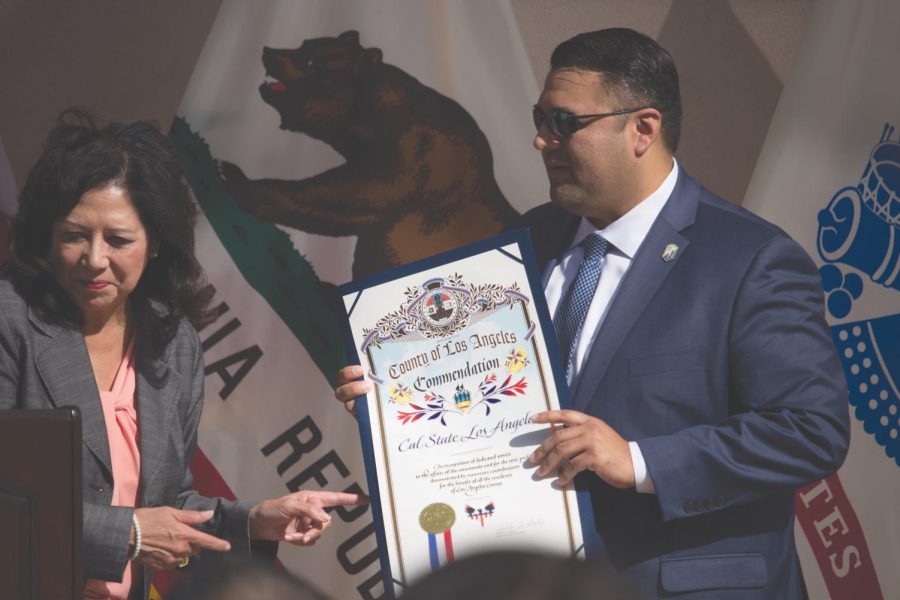 The 2018 Veterans Day Ceremony was a celebration on-campus to represent our soldiers, marines, airmen, sailors and coastguards.  
The ceremony was hosted by the Veterans Resource Center (VRC) and offered a panel of veterans and national public figures including, LA County Supervisor Hilda Solis and Congressman of the 34th district Jimmy Gomez.
A flyover from the C-17 Globemaster III—the second largest transporting plane for soldiers and cargo—kicked off the ceremony as Cal State LA alum Lt. Peters flew overhead. The audience was filled with students, faculty, officers, army recruiters, military families and veterans. People came to pay their respects by celebrating and remembering the men and women who sacrificed themselves for the greater good of the country.
"This is the way I can show my respect and gratitude towards those in combat, those who are no longer with us and families going through this," student Veronica Flores said.
Director of the VRC Dani Molina, was excited by the support and expressed the centers goal to 'increase the higher education and success' of vets and their families, since over 350,000 veterans reside in LA County.
"Veterans are [highly] underrepresented today," Molina said. "It's the least we can do here on-campus to contribute to every vet around the United States, we're honored to."
The center serves all active and former service members, dependants, and reservists. The benefits they provide include scholarships, workshops, career advice and community referrals.
LA County Supervisor Hilda Solis, was one of the speakers at the ceremony and began her speech with a salute to Cal State LA and the VRC. Solis was the first Latina to serve in the U.S. Congressional Cabinet and the first woman to receive the John F. Kennedy Profile in Courage Award. She was 'very impressed' by the schools program and urged students and families to take advantage of the benefits offered.
"Over 600 students and families on this campus are veterans," Solis told the UT. "It's very inspiring because not every campus has such an established center for men and women. This is what's important. This is what we need to see."
Many active duty soldiers from the area came to support and encourage students who are interested in enlisting, to 'just do it.' Cris Zepeda who has been a soldier in the Army the past six years, came to the ceremony and was amazed by the way our school honors vets. He and his fellow team brought along the U.S. Army Reserve's 311th Sustainment Command (Expeditionary) military vehicle and let students pose for pictures while he answered the many questions that they had.
"This is truly amazing. I have never seen a school have a flyover by an actual combat plane but also speak such an important message on what Veteran's Day is all about, it's great to see that young students care," Zepeda said.
Cal State LA has been the school committed to veterans since 1947, when it was created for students of the military workforce who wanted to further their education but were limited, according to Chancellor Dr. Marshall Thomas. The school has been the educational home for thousands of vets since, and continues to support and acknowledge all military personnel and their families.
"Every Veterans Day, I want you to take a second and think of what exactly you are thanking our Veterans for, do it from your heart, not out of habit," Dr.Thomas voiced in his keynote.