City drops charges against Cal State LA Chair of Pan African Studies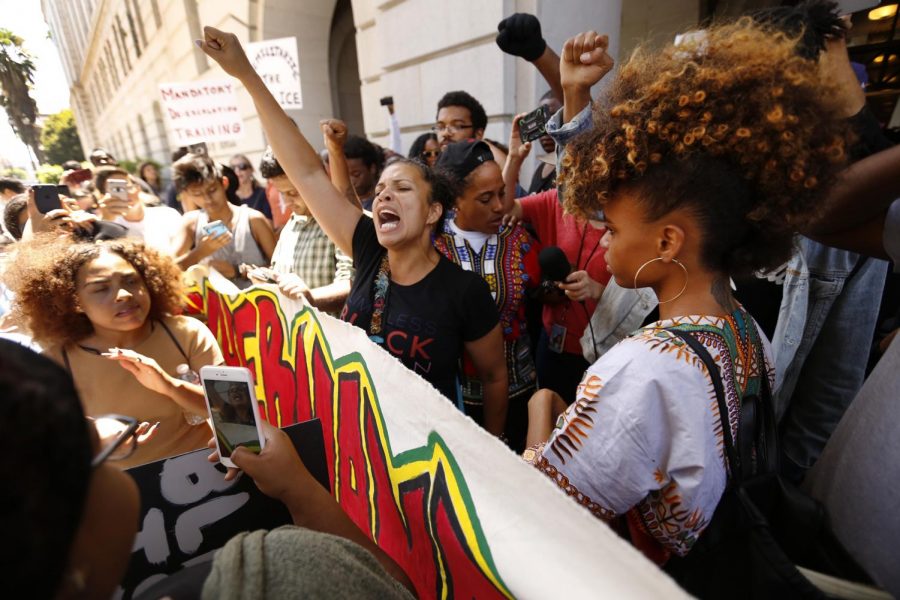 Becky Nava, Staff Reporter
February 13, 2019
All eight of the charges brought up by the city of Los Angeles against Melina Abdullah–chair of the Pan African Studies department and co-founder of the LA chapter of Black Lives Matter–have been dropped.
Following the hearing, she shared the news with a crowd of supporters. Dozens braved the cold, many donning bright yellow Black Lives Matter apparel in solidarity.
A majority of the charges were based on alleged disruptions during city hall meetings, including talking off-topic and going over time.
Abdullah has a history of activism; specifically, last May during a city hall meeting, the aunt of Wakiesha Wilson, a black woman who died while in police custody, allegedly threw Wilson's ashes on Police Chief, Charlie Beck. Beck then pressed assault charges against Abdullah, claiming that she had grabbed at his arm during the incident.
The history of this tension led Abdullah's attorney, Carl Douglas to yell "they surrendered" to a cheering crowd in a press conference.
Fellow Black Lives Matter activist Susan Krice met Abdullah a few years ago during a demonstration outside of city hall and has seen the antagonistic relationship between activists and law enforcement.
"Dr. Abdullah is a treasure," said Krice. "She has been targeted by the police department because of her [activist] activities.They've caused her the stress of having to go through all of this and that's their only weapon against her. They have the power to do that. This hearing is showing the world that 'no' you cannot do that."
Abdullah's presence and influence in the community can be seen from the actions of her supporters.
Former Cal State LA students Kennedy and Kayla Douglas first encountered Abdullah after taking an introductory Pan African Studies course where she inspired them to take part in the Black Lives Matter movement and pursue a master's degree in Pan African Studies.
"She really supported us in our educational and professional careers, so we're just here to support her and the whole Black Lives Matter movement," said Kennedy Douglas.
Rick Lesser, a member of the ally group White People for Black Lives, has seen the result of white privilege and racism firsthand.
"White people go out and protest and don't get treated the same way that black people do when they go out and protest," said Lesser.
The experience of black women, in particular, has been a long struggle according to Kayla Douglas. She notes that black women are burdened with overcoming statistical odds and defying stereotypes.
"Being black in America is different than being any other race. You won't know how it is to be black in America until you're black in America," said Kayla Douglas.