City of Orgs gives student-run groups visibility
Erik Adams, Senior Multimedia Reporter
February 9, 2023
Dozens of student organizations tabled along Cal State LA's main campus walkway on Tuesday, Jan. 31, as a part of City of Orgs, an event that gives the groups a chance to connect with new and returning students.
Among the many that appeared at the event were hobbyist groups like the Japanese Media, Arts and Culture Club, Greek life organizations like Sigma Lamba Beta and Zeta Phi Beta, political advocacy groups like the Young Democratic Socialists of America and Young Americans for Freedom and many more.
One group at City of Orgs was called Undoculeaders, which aims to help connect undocumented and international students with resources around campus.
"There's a lot [of resources], it's just that [some students] aren't aware of them," said Ana Camarena, a child development major who is part of the organization. "We just want to get that information together and provide it to students and also just be a support group, because we know the struggles we go through."
Compared to last year's event, Camarena said Tuesday's outing was "very different." After some lulls in the group's activity in recent years, things picked back up for Undoculeaders in 2022.
"Which was right in the center of the pandemic," Camarena said. "So it was really hard to recruit and find students."
However, Tuesday's event was lively, with large numbers of students filtering in and out of the area, stopping at tables to hear what the clubs and organizations had to offer.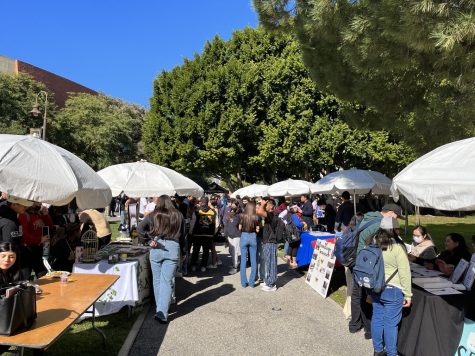 "I want to say that maybe we've had about 60 people passed by and a good 30 of them, I feel like, are going to come back," said Vice President of the Trans-Queer Connection A.J. Chavez.
City of Orgs makes it easier for the Trans-Queer Connection, a student organization promoting community and friendship among the queer Cal State LA students, to have more visibility on campus.
"Usually we hang out in the campus' Gender and Sexuality Resource Center," Chavez said. "It is very understandable that a lot of people are stuck in certain parts of the campus."
Branden Tepaz is the vice president of the Accounting Society at Cal State LA, a student-run organization that connects students with accounting internship opportunities, education and networking.
"We're very thankful to be here for City of Orgs," Tepaz said. "We're thankful to have been able to talk to and interact with all these people."
Cena Vegan, a local plant-based Mexican food pop-up, set up shop near the physical education building and provided free food for students who engaged with the event's organizations. Each attendee was to show proof of table visits with a completed stamp card signed by representatives of any given group.
Kevelyn Alvarado, a kinesiology major who was in line at Cena's tent, said that events like these help connect students by "giving them more opportunities to branch out besides being in their major…It helps them grow as a person, too."