Community-owned land as a way to challenge gentrification
El Sereno Land Trust opens second space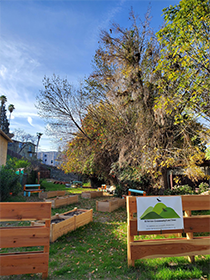 The El Sereno Community Land Trust sees gentrification, climate change, and homelessness as the most pressing issues currently affecting East L.A residents.
About a week ago, the group held a grand opening event for its new green space, what was once a formerly empty lot on Wadenda Street. The area, now open for community use, is filled with garden beds, child-proof benches, and a bird fountain.   
The trust comprises members of East Side Cafe, a cultural center founded in 2004 that ties their land practices to Native American history and culture to preserve a sense of tradition and stability.
In 2017, after years of seeing a rise in displacement cases in the city, they also faced the threat of eviction when their building was sold to a new developer. 
Angela Flores, a co-founder of the East Side Cafe, recalled how community members resisted. 
"Our proposal was that you [the developer] walk away, and we'll buy the building. He got the message but didn't take us seriously because he had an inspection to do. Our plan B was to protest, and so we walked around, followed him…with maybe 20 to 30 people there doing the same," Flores said.
The members were then given ten days to come up with an offer; they set up a GoFundMe and received 1,000 donations totaling $200,000 — enough for a down payment.
That victory made residents realize they could challenge the traditional roles expected of landowners, leading them to work for three years to establish the trust.  
Flores referenced the land trusts of the 1950s created by Black farmers as the cafe's main inspiration for the organization. 
"The idea came about while we and other neighbors were experiencing this fear of being displaced. This model has been proven to be a viable solution for people of color," she said.
Some, however, have called into question the land trust's intentions, saying that they had only heard of its existence recently through the community neighborhood app Nextdoor, despite being longtime residents. 
Local resident Aida Corea praised the group's values but suggested more transparency in its operations. 
"I think my main concern is that not many folks know about this land trust and how it was created," said Corea. "You would imagine that a land trust that is named after a specific community would have been shared and publicized across the whole community so that stakeholders and members within that community would learn more about it. Community engagement starts with communication." 
Flores said she appreciated comments like Corea's and other feedback and would like to engage others.
"I think people should be critical, with us being around for 20 years. We need to be able to work together and listen to each other," said Flores. If people were to come to the Eastside Cafe and introduce themselves and say, 'Hey, I want to do something,' that's what the space is for. It's open to projects, collectives, artistic and cultural events as well." 
Other El Sereno residents, such as Neela Banerjee, have discussed how the trust has helped improve community involvement.
"I was looking for a way for my children, ages 7 and 12, to get involved in the neighborhood when I heard about the Wadena adopt-a-lot project," Banjeree said. "Having them be involved in the process from early meetings to the land clearing, and now being able to feel proud and responsible for the space really makes us feel connected to the community." 
For more information about the El Sereno, Community Land Trust can do so on its website and social media platforms.
Community News produces stories about under-covered neighborhoods and small cities on the Eastside and South Los Angeles. Please email feedback, corrections and story tips to [email protected].