Golden Eagle alum returns to nest to champion diversity in storytelling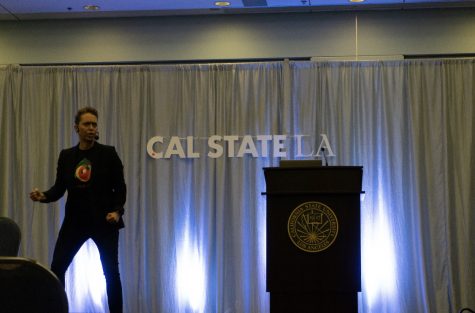 On a bus ride to school, a woman tried to talk to Winston Cox, stirring fear in him — he heard about black men being lynched for talking to white women. He came to learn the woman was from Turkey and didn't even speak English but still didn't engage with her. It was part of Cox's struggle being the only black student on his campus.
Thirty years later, his daughter, Fanshen, had a different college experience.
"It is 1988 and it is my very first week at the University of Michigan! Go blue," she said, after sharing her father's anecdote. She contrasted her father's story with her own by detailing how she was accepted by her fellow students of color. 
Despite being strangers initially, they greeted her warmly. "It's like I'm getting this big old, giant hug from a community that recognizes me. And I like it."
It's these stories that need to be told more often, particularly in entertainment media, asserted Fanshen Cox DiGiovanni. Hence why she's dedicated her career to it.
The Cal State LA alum serves as head of strategic outreach at Pearl Street Films, advising Ben Affleck and Matt Damon on how to promote an inclusive production. She's also a board member of the USC Annenberg Inclusion Initiative, the self-described, "leading think tank in the world studying diversity and inclusion in entertainment."
The Golden Eagle Ballroom was packed on Tuesday for the Academic Senate's Distinguished Lecture on Engagement, Service and the Public Good, in which she was the guest speaker. What was advertised as a lecture, turned out to be an interactive one-woman show. It was a cocktail mix of theater, personal anecdotes, U.S. history, intersectionality and a slideshow.
"I'd like to invite my Jamaican grandmother, white mother and Pan-Africanist father on stage," she said. She then morphed into character, impersonating each of the members of her family whose voices she used to tell their own stories.
Playing her mother, Cox DiGiovanni channeled a hyper woman with a high-pitched voice, cheerfully running over and speaking with audience members while in character. At one point, she playfully slapped this reporter's shoulder while asking, "Can you scooch over? I'm going to sit down with you. Thank you so much," eliciting laughter from the crowd.
"When she said, 'I'm going to bring three people, my grandma, my father, my mother here,' I literally thought they were going to show up or that she was going to press a button and that it would be… on the screen," said attendee Makena Goodwin, a social work major. "When it happened, I think all of us just kind of perked up and the room became excited and really a lot more interested in her story and her family's story."
The event was composed of elements of her own theatrical show, "One Drop of Love," a solo show that originated as her thesis for her MFA at Cal State LA. The show's title alludes to the so-called "one-drop rule," which has been historically imposed to designate people with any trace of African ancestry as black, according to the Boston Globe.
"[It's] very rewarding to see our students take the work they started here and move with it and develop it," said Television, Film and Media Studies Professor Suzanne Regan, a former instructor of Cox DiGiovanni.
Another highlight of Cox DiGiovanni's versatile career is helping create the "inclusion rider," a virtually unknown industry term gone viral after receiving a shoutout during Frances McDormand's Oscar acceptance speech in 2018. The inclusion rider is an additional contractual clause in which filmmakers commit to hiring a diverse cast and crew, according to the L.A. Times.
Since getting the shout-out in front of a large audience a couple years ago, Cox DiGiovanni said she is happy with some progress but is disappointed with what she sees as shortcomings.
She pointed out "Just Mercy" and "Hala" as films that opted for the inclusion rider and were spearheaded by "marginalized people." Cox DiGiovanni said white filmmakers also need to be part of the effort too.
"I'm glad that there's progress but I will never be [fully] happy until we all see ourselves represented," she said. 
USA Today reported only one person of color was nominated in the acting categories of the Academy Awards this year, while no women were nominated in the directing category — continuing a 92-year trend where only five women have been nominated in the category. The only winner was Kathryn Bigelow for "The Hurt Locker" in 2010, according to the Academy's database.
"I'm extremely frustrated, and yet, not surprised because until the people in the highest levels of decision-making power actually reflect on what the world looks like, it's not going to change. Or, [the change is] going to be so tiny and incremental, our great grandchildren will maybe start to see the effects of it," said Cox DiGiovanni.
She added that other award ceremonies have done a better job recognizing minorities. "Maybe we also just have to stop watching the Oscars. It's not meaningful for us anymore."
Regan was enthusiastic over the progress that has been made while reaffirming her pride in her students' contributions in the industry. "The times change slowly but… it's wonderful to see my students have a voice, like Fanshen."
According to a Fall 2018 Cal State LA fact sheet, the latest data available of the annual fact sheets, 3.5 percent of the student population at the time was African-American.
Cox DiGiovanni was asked for her thoughts on the matter, while earlier, in her on-stage remarks, she praised Cal State LA's leadership for "so many wonderful things on campus."
She asserted action should be taken to address the low enrollment of black students;"When we have that data, we can't just simply say it, we have to then take active measures to change it."
In a message to students of color wanting to break into the industry, she urged Golden Eagles to believe in themselves and believe in their stories, "especially if it's a story we otherwise don't get to hear. And find people who will champion you in the industry." Among other things, she added, "And you know, have good spelling."