Golden Eagles lose first game of the season
Cal State LA's men's soccer team lost their first game of the season 1-0 against Dominguez Hills.
The Golden Eagles began this game putting a lot of pressure on the Toros but would end up scoreless at the half.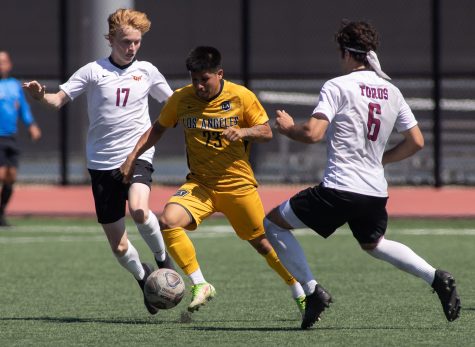 Dominguez Hills came out in the second half looking for their goal, which would come in spectacular fashion.
With 20 minutes left in the game, the Toros scored the game-winning goal from Martin Velasquez.
Golden Eagles coach, Michael Erush, was left surprised by the goal the Toros scored and told his team to bring it back. 
"I felt that we fought hard all game," Erush said. "We had a goal that we should have scored when we put pressure on their keeper, but he ended up recovering from it. So far this season, we have been terrific when trailing from behind. Today was not our day. Now that the conference games have started and we are anticipating our next game this week, it was a nice test for the guys to witness that intensity." 
The Golden Eagles are now 7-1 on the season and their first loss since Sept. 25, 2021, ending a long winning streak. The Golden Eagles will face Cal Poly Humboldt in their next matchup this Friday.