Golden Eagles Losing Streak Continues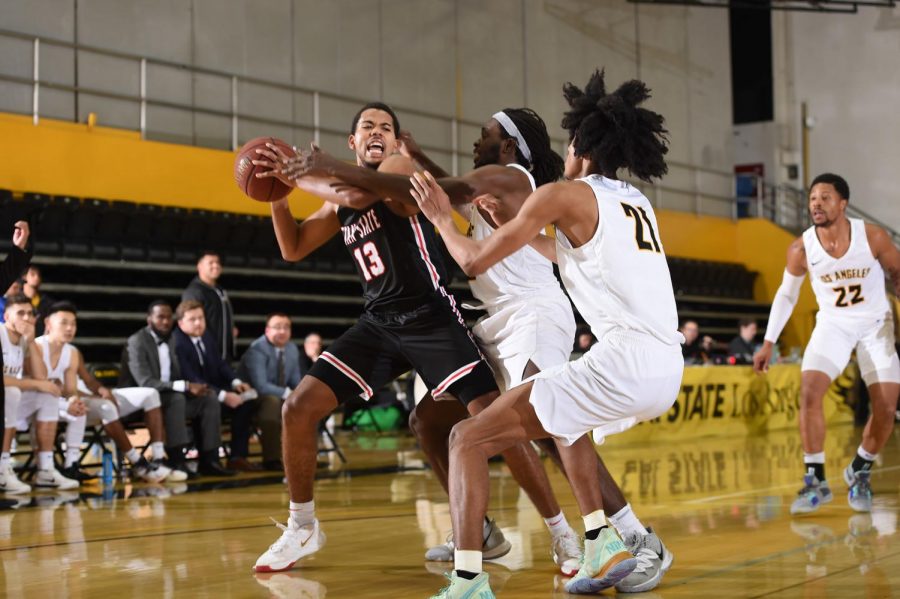 Cal State LA men's basketball lost their fifth straight game on Thursday, Jan. 16 against Stanislaus State. 
The Golden Eagles lost to the final score of 77-85. However, Cal State LA started very strong with a 9-0 lead. Stanislaus state did not score for the first seven minutes of the ball game. Cal State LA's lead held unto to the end of the first half where they led 35-31, but the second half belonged to the warriors.
The eagles and warriors traded baskets that led to a Cal State LA 41-35 lead. But, the Warriors got hot and went on a 15-0 run and took the lead with the score of 50-41 with 14 minutes left to play. Once the Warriors caught fire, the Golden Eagles started to burn away as the lead increased by 16 with eight minutes to go. 
The Golden Eagles showed their will to claw back into the game, as they cut the deficit to just seven, 70-63, with four minutes left to play. However, Stanislaus still managed to come out with the win. 
"We just didn't guard the ball very well, and play with that fire we did the first half. It's all defense. We gave up 54 points [in the second half]" said head coach Jim Saia on the team's loss against the Warriors. 
The Warriors were led by Darrius Scott who had 21 points.
The Golden Eagles were led by guards Khalil Williams and Fard Muhammad who both posted 15 points. Forward Ja'sean Lewis also contributed big with a 14 point, 10 rebound double-double. 
"We finally got our full team so I think things are going to start picking up. Next game, we are going to get the next one and we're going to finish the season strong," said Lewis on the team's current mentality on the losing streak and for the next game. 
The Golden Eagles face Humboldt State Saturday, Jan. 18, at 3 p.m. in the University Gym.