Graduates Pass Up Covino Handshake
Cal State LA graduates protest impaction and President Covino during graduation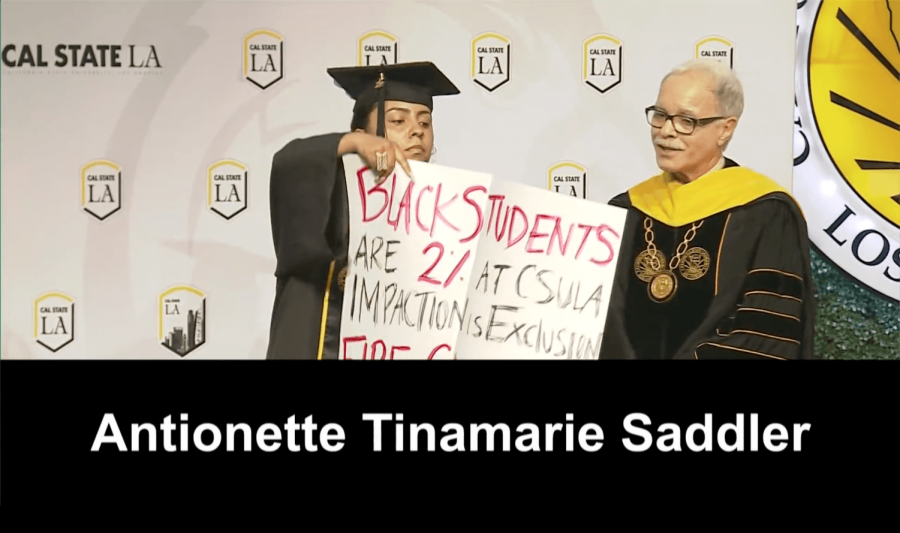 Graduation commencements took place throughout the week of May 20, becoming a celebration for many completing the college curriculum, but some took their time on stage to make one last protest.
Nine Cal State LA graduates during the College of Natural and Social Sciences graduation took the opportunity while on stage to refuse a handshake with President William A. Covino. In particular, Vice President of the Black Student Union (BSU) Antionette TinaMarie Saddler held up a sign in front of the president reading "Black students are 2% at CSULA, impaction is exclusion, Fire Covino."
At this moment, Saddler has not responded for comment but has responded to critics and supporters. Video of Saddler's protest made its way online, which brought out a mixed reactions.
Supporters, like first year student Kasandra Cordova, commended Saddler for protesting at graduation, noting the importance of speaking up as a graduate and still addressing issues that will affect future students.
"I commend all graduates who took a stand and chose not to shake Covino's hand during commencement week. Many students may feel intimidated during such an honorable event but one should not have to face the hypocrisy that is our president. Protesting during graduation is a grand enough gesture that should have caught people's attention," said Cordova.
Student organizations like BSU, Students for Quality Education and Golden Eagle Justice have been advocating for the removal of President Covino and spreading awareness. These groups along with other student organizations created a coalition and have been speaking up against impaction and the administration at Associated Student Incorporated and Academic Senate meetings.
While some graduates refused to shake his hand, President Covino wanted to focus on the event overall.
"Commencement was a joyous occasion for our students and their families and I was happy to shake the hands of thousands of graduates," said President Covino.
*Correction: June 7, 2019 3:26 PM*
Technical difficulties uploading article. President Covino's quote is added as it was in the original file.
*Correction: July 24, 2019 12:07 PM*
A source has been removed due to the fact that it was not disclosed that the article would be published.