Graduation 2025 Initiative Sees a Slow Increase in 2019 Graduation Rates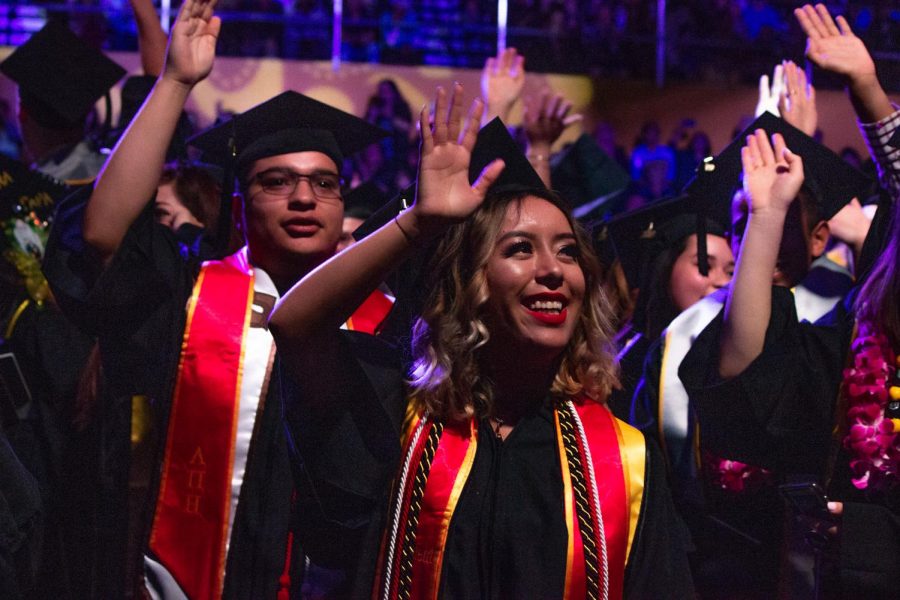 Shirley Carrillo, Kenneth Cyprian, and Erick Gurrola
June 28, 2019
Cal State LA celebrated this year's commencement ceremony, graduating a little over 6,000 students in May, but the graduation rates are not yet fulfilling the proposed number according to the Graduation 2025 Initiative. 
The last confirmed graduation figure is 9.5% in 2016 for 4-year graduation rate. Cal State LA has one of the lowest percentages among the 23 Cal State University (CSU) campuses according to EdSource.com.
"When I had seen that the graduation rate was lower than I thought it was, it made me not want to fall under that statistic. It pushed me to do better."" said Mariana Lopez, a Cal State LA student.
The Graduation 2025 Initiative aims to improve the four-year graduation rate to 40% and the 6-year rate to 70% by 2025.  It was adopted in 2016 and declares that the CSU system is dedicated to helping students reach their expected graduation year despite differences in degree program, economic status and ethnicity.
The Office of Institutional Effectiveness (OIE) is responsible for crunching the numbers  and producing the university's graduation rates and the relevant statistical information. As claimed on the Cal State LA webpage, "[the OIE] provides high-quality data, analytical tools, strategic analysis, and partnership-based education and collaboration to foster a University culture of data-informed decision making."
According to the OIE, the known statistics so far at Cal State LA state a gradual increase of Bachelor's degrees awarded. In the 2016-17 school year, there were approximately 4,799 degrees given and in the 2017-18 school year, approximately 5,246 degrees. This data compared with a general estimate of over 6,000 graduating students for the class of 2019, demonstrates a growth of graduation rate that is worth recognizing and celebrating according to James Cuaresma, Director of University Events and Protocol.
"Commencement 2019 was a proud moment for our students, their families and the University. The ceremonies were a moving and memorable reminder of the importance of higher education and student success," said Cuaresma.
This office has not reported any data since 2016, which included the four-year and 6-year graduation and retention rates. Alan Yu, a research technician at the office explained that it takes four or six years to compile information and report the exact graduation rate.
Even with incomplete data, it seems as though university graduation rates are increasing but it is not on track to meet important rates for the Graduation 2025 Initiative.
Each CSU campus was required to create their own plan of action. Cal State LA has their April 2017 plan available on their website. It is the only updated report so far from Cal State LA, but it doesn't give or estimate current rates. The 4-year plan statistics are scheduled to be released in 2020 and the 6-year update is scheduled for 2022.