Highland Park guitarist: Neighborhood populations evolve over time. What matters is how people work together
In the 20-plus years guitarist Juan Lopez has lived in Highland Park, he has seen it shift from an art and cultural hub to a community that sometimes "lacks appreciation of its long-standing culture."
Lopez plays in the Los Angeles based-straight edge band, Firestarter, which is considered the first original Los Angeles Straight Edge band since 2003, when ACxDC first came out and before that, in 1991, Strife laid out the blueprints for straight-edge hardcore bands.
Straight Edge culture within the hardcore genre originates in Washington D.C. in the early 1980s with bands such as Minor Threat and Government Issue spreading positive messages of living in the moment without the need to be inebriated by any sort of substance. 
Bands such as Teen Idles and 7 Seconds within the hardcore scene in the late 1970s had already begun expressing themes against drugs and alcohol within their lyrics. Min
or Threat's 1981 EP includes a song called, "Straight Edge," that then led to a name for the pro-sobriety hardcore subculture. 
Lopez recently shared his personal and musical experiences in the neighborhood with UT Community News.
How has your neighborhood changed and how does that make you feel?
"York and Ave 51 used to be sketchy and you'd never hang around there too long when I was a kid but now, it's the place to be. Interacting with older members of the community has definitely given me a wider perspective on it. I've learned about how it used to be a predominantly Italian and Jewish community until a couple riots happened and then the Hispanic population skyrocketing in the 70s, bringing an increase of gang activity…in the 90s…Now the increased presence of white people and the pricing out of the Hispanic population…It hurts to see a lack of appreciation of a long-standing culture and community but knowing it happens over time in any place leaves me in a strange place emotionally."
Do you think Highland Park has changed for the better or for the worse? What do you think could be improved within your community?
"It's better in the sense that people don't have to be afraid of walking down the street and going out to certain areas. I wish that as a community the residents that were around when I was growing up would have come together the way those who remain are now….I wish that we didn't have priced out members of the community living in cars near schools for their children's sake while rooms go for $1,500 for people who virtue-signal advocating for 'unhoused' care despite being behind the reason why people can't afford to live places."
What decisions led to Firestarter becoming the new flag bearers of straight edge on the West Coast?
"We definitely never intended to be a 'new wave of' or 'flag bearers' for straight edge in LA. We just like hardcore and happen to all be straight edge. Firestarter was born out of an appreciation for the New York Hardcore scene in the late 80s, specifically, the 'Youth Crew' scene and the Revelation Records catalog 1-30, which features a lot of seminal and influential Youth Crew releases."
What's your current favorite local venue to attend shows at and why?
"I think the Midnight Hour in San Fernando and 1720 in L.A. are some of my favorite spots. There's plenty of parking around the Midnight Hour and it's run by some of the coolest people and 1720 because it's cool having a 'big' venue for hardcore. Most venues wouldn't touch hardcore with a 10-foot pole."
Venues within Los Angeles have been disappearing at an alarming rate. For instance, the Hi Hat and Rec Center closed down in the past two years. Do you think the lack of places for artists to perform will affect the local music scene's ability to grow?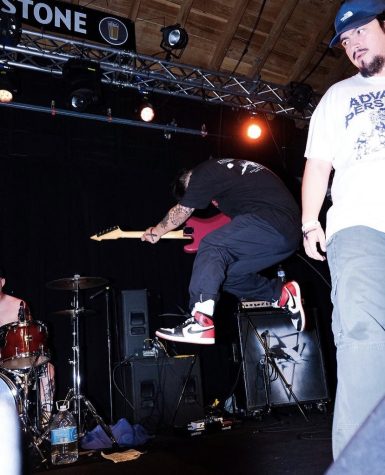 "I think the DIY, do-it-yourself ethics that drive underground alternative music will always carry it. Shows happen in backyards, in the L.A. River, at skate shops, etc. I wish there was a smaller local venue that catered to hardcore and surrounding genres because spaces like that are extremely important. But people don't know anything about respecting a spot and what that actually means." 
After a night of performing and talking to other members of the scene, what would be your favorite local place to grab a bite to eat at?
"In-n-Out, Angry Chickz, Torung, or Orochon Ramen — if it's early enough. But we're not too picky."
What's your favorite local Los Angeles band currently and what's been in your rotation music-wise as well? Outside of metal/hardcore, what other genres do you really like?
"Pull Your Card. I've been listening to a lot of straight edge metal bands or 'edge metal' like Sentence, Day of Suffering, Contention, Excessive Force, etc. I listen to a lot of oldies, indie music, shoegaze, and post punk."
When's Firestarters' next tour or show and what's next in your musical career?
"Firestarter is playing a festival in benefit for La Casa community center in Santa Barbara on Sept. 3, and legendary alternative music venue Chain Reaction the next day…Sanctify [my other band] has two back-to-back gigs in October supporting Gumm on Oct. 9 and Combust on Oct. 10. I'm playing bass for a band called Wise for their upcoming return shows as well. Up next is maybe an East Coast or full US [tour] with one of those bands."