Homeboy Industries founder misses campus speaking event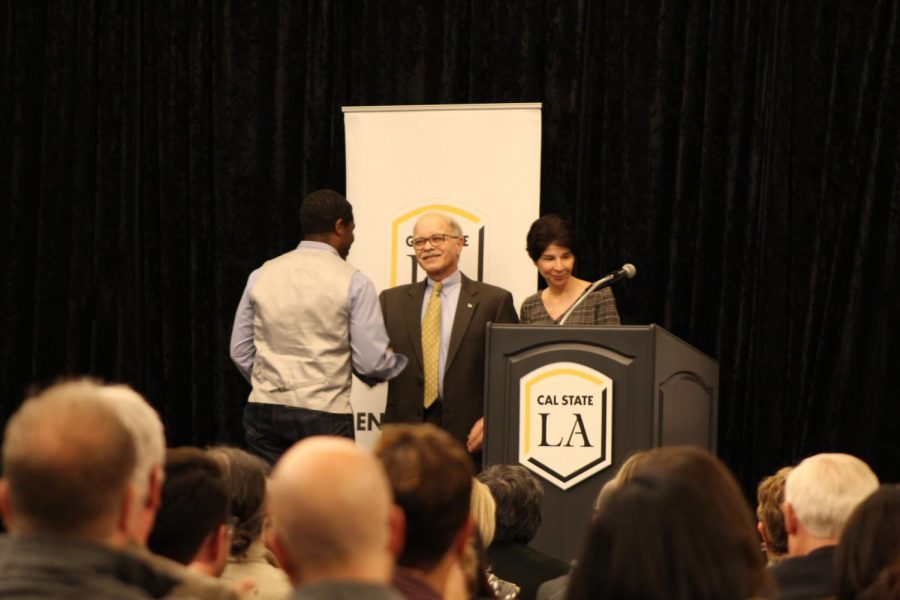 An L.A. based reverend is on a mission to provide compassion and hope for former gang members seeking a better life. Gregory Boyle, a Jesuit who founded Homeboy Industries, the self-described "largest gang-intervention, rehabilitation, and re-entry program in the world."
As part of the campus Mind Matters initiative, the New York Times bestselling author was scheduled to speak at the Golden Eagle Ballroom on Monday. However, Boyle was unable to attend due to death in the family. School President William Covino said he'll be rescheduled to talk soon.
Covino discussed Boyle's work, praising him for how he approached his clients.
"[The former gang members] have backgrounds that have disadvantaged them in one way or the other," said Covino. "[Boyle] dealt with all that, not in a punitive way, but through kindness and through a recognition that everybody deserves."
Covino and his wife, Debbie Covino, launched the Mind Matters initiative in 2014 to aid Cal State LA students in achieving academic success while dealing with the pressures of university life, family responsibilities and jobs.
In his book, "Tattoos on the Heart," Boyle discussed what working with former gang members in Los Angeles has taught him about faith, compassion, and the enduring power of kinship. On campus, Boyle was meant to speak about his new book, "Barking to the Choir: The Power of Radical Kinship," which elaborates on how compassion has transformed the lives of his clients he wrote about in his first book.
"In his book, ["Tattoos on the Heart"], he shows humor, and recognition and fellowship," said William Covino. "He's just had a monumental impact so we wanted him here because his work is so consistent with the Mind Matters initiative." 
Boyle's book reflects the Mind Matters' goal to make campus welcoming and inclusive since "we are living in a world that is in many ways divided and full of conflict."
Covino added, "We want to be a part of the solution to that atmosphere."
Besides the would-be talk, accolades were distributed. Nominated by the campus community, the Mind Matters champion awards recipients were student Jhoanna Avelino, staff member Christopher Johnson, and faculty member Roberto Alcaraz Jr. The honors recognized their efforts to help instill a university-wide culture of caring, compassion and well-being.
"[My mentors] brought me into acting and into teaching," said Alcaraz Jr., an assistant professor in theatre. It's because of them, that Alcaraz Jr. pushes to inspire students to express their unique voice.
"As far as the mindfulness goes, that's really important for us actors is to be in the moment, and it's a wonderful life skill to know that," Alcaraz Jr. said. "Another one of the things that I enjoy telling students is that if they are in the moment, and they trust the moment, that they'll be able to deal with things as they come."