How I ended up living with my best friend for six months during the coronavirus pandemic
Mia Alva, Community News Reporter
April 1, 2021
I will never forget the night my dad returned from work to our home in Highland Park.
It was March 18, 2020. COVID-19 had done little damage on the United States at that point, so I didn't expect it to affect my life the way it was about to.
"Do you want to stay at Sebastian's for a while?" my dad said. My best friend, Sebastian Lopez, lived 4.8 miles away in South Pasadena.
"Why Sebastian's?" I asked, wondering what was going on.
"I don't think it is safe for you to stay at home," he replied. He recalled feeling scared of what could come.
He added that President Trump declared COVID-19 a national emergency on March 13, 2020. Since he would have to keep working five days a week for eight hours at a time as an essential worker at a grocery store, he figured the arrangement could protect me.
 "Sure," I said, feeling excited to spend time with Sebastian, whom I had been friends with since middle school, and his mom, whom I called "Madre" since she was like a mother figure in my life.
I packed a week's worth of clothes, figuring it would be a short stay.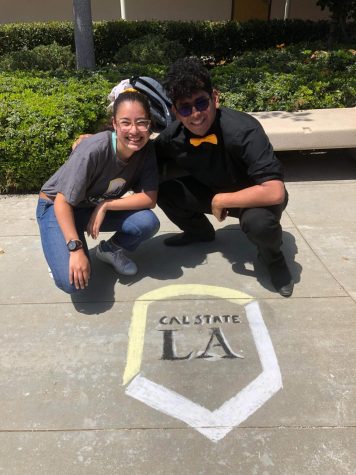 Still, when I arrived at his home, I immediately felt awkward.
"I'm not here to hang out and talk. I'm here to stay safe," I recalled thinking, feeling very homesick. But I reminded myself it was temporary.
And I was thankful for Sebastian's mom, Mars Lopez,  who was very open and kind. She gave me blankets and I settled into the couch to get some sleep.
She remembered not thinking twice after I asked to stay with them. 
"In the back of my mind, I did think about how hard it was for Mia to leave home and how she had to adapt around a new way of living," said Lopez.  
She made it a goal to make sure that I was able to have my own space and that I felt like I belonged to the family. 
As the days wore on, it became clear that the infection rates were quickly getting worse.
What was supposed to be a week away from home became months.
During that time, questions crept into my mind: "When will this end?" "Am I a burden to them?"
To be sure, it was nice bonding with Sebastian and my dad helped by bringing us groceries for the week and anything else I needed from home.
But I missed him so much and worried about him. I missed my home, my cat, Penny, and even my bed and other belongings. Back pains led me to order an air mattress four months in.
But the emotional stress far outweighed any physical discomfort.
When I was younger, I moved around a lot after my parents' divorce, so my belongings were my home. As I get older, I realized that I never grew up in a single house or apartment but that my possessions were the things that made each new place home. With only having so much at Sebastian's was rough for me to be in a comfortable state of mind. 
The pandemic seemed to change my life in an instant.
I was used to taking the bus wherever I needed and loved my freshman year of college.
Just a couple of months into the first semester of my second year, the pandemic struck.
Things were changing fast but I never thought that I would spend the next six months with my best friend and his mom.
Sebastian and I used to dream of living together as upperclassmen. That situation came sooner than expected.
"Just think of this as a trial of what it would feel like to live with each other," Sebastian would say.
The pandemic has reminded me how lucky I am to have friends like him and family to help me in struggling times.
The six months ended abruptly when my dad lost his job. The silver lining, of course, was getting to be home again.
While we faced financial struggles such as being able to pay rent on time and buying groceries we needed after he lost his job, at least we were back in it together.
Community News produces stories about under-covered neighborhoods and small cities on the Eastside and South Los Angeles. Please email feedback, corrections and story tips to [email protected].