Impaction: What's next?
Cal State LA students, faculty, and community members make plans after the university moved forward with impaction.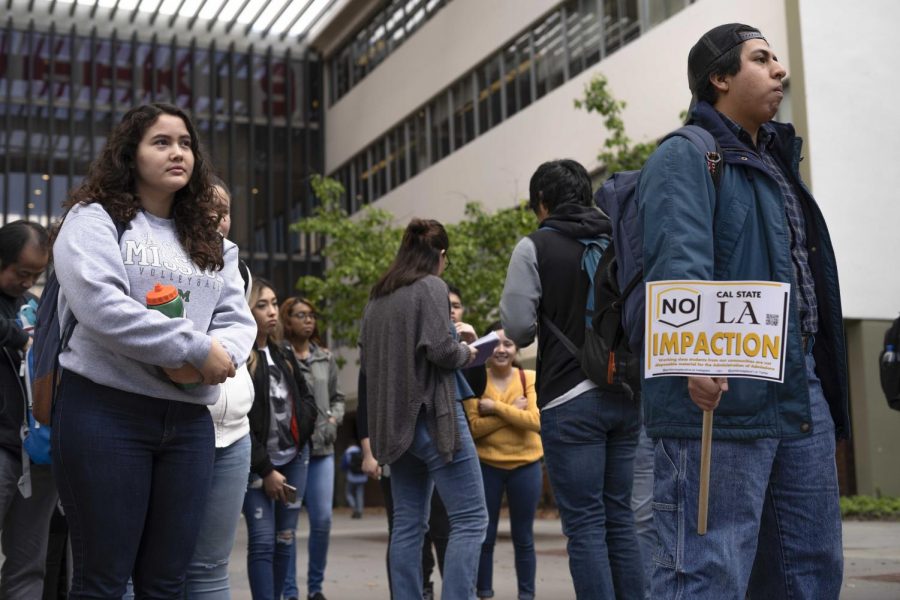 Cal State LA administrators made the decision to move forward with impaction despite the opposition from many of the students, faculty, and community members.
The Final Admissions Proposal was submitted to the Chancellor's office on March 15, which institutes the raise for admissions criteria and officially declares Cal State LA as an impacted university beginning Fall 2020.
"The mandate of this university is to reach out to disenfranchised students and give them an opportunity," said graduate student Greg Foisy. "Declaring impaction really stands against that."
Cal State LA students, faculty, and community members have sent dozens of letters to California State University (CSU) Chancellor Timothy P. White, expressing their opposition to impaction and their fight for a one-year moratorium to allow the university time to gather its stakeholders and demand more funding at the state level.
In addition, they are now demanding for the removal of President William A. Covino, Provost Lynn Mahoney, and Vice Provost Tom Enders.
"They have not supported us, they are not in these conversations with us, and they have turned their backs to us and that's why we are calling for their removal," said student activist and leader of Golden Eagle Justice, Danielle Mayen. "We have to make sure that the people our tax dollars are paying for are actually representing our community and our voices."
Three thousand signatures are needed to remove Covino, Mahoney and Enders from the administration, which is approximately 10 percent of the student body.
If and when the required number of signatures is achieved, the documents will be sent to the Board of Trustees. From there, an audit will be conducted on those being requested for removal.
Golden Eagle Justice held another rally on-campus last Wednesday to engage and inform the university and its community members on the updated impaction plan.
"We're having this rally to show our students' power," said student Sara Godinez.
"We're fighting with students, faculty, and community members, and we won't stop spreading our reasons of opposition," they added.
Faculty members submitted a list of demands to the administration to keep Cal State LA "accessible to the public."
One demand that was relevant to most students was the asking for a more holistic screening process; allowing students to be admitted based on their experiences and struggles rather then be looked at as numbers.
"The university doesn't listen to its students and our traumas," said impaction adversary Eric Rangel.
"It is really unfair and they have to be stopped, especially since Mahoney and Enders were involved in Cal State Long Beach declaring impaction," Rangel added.
At last week's rally, students explained that data from Cal State Long Beach (CSULB) shows that the amount of middle class students increased after impaction was declared, while the number of working class students decreased.
For many students, their leading concern is that once impaction is declared, the history and diversity of the university will be wiped out.
Those students interested in signing the petition for the removal of our campus officials are encouraged to reach out on social media (@goldeneaglejustice) and spread the word throughout the community.