Inglewood councilman: City is poised for growth with new stadiums and venues
Alex Padilla shares housing and other updates

Inglewood Councilman Alex Padilla is brimming with excitement about the new Inuit Dome stadium in Inglewood.
While some naysayers worry it will continue driving up housing prices and burdening existing infrastructure, Padilla said he's expecting it to generate more revenue, jobs and housing — critical to addressing the city's biggest obstacles. 
Padilla, who represents the city's second district, shared his thoughts in a recent interview with UT Community News about some of those challenges in Inglewood and how they're being tackled.
What is one of the biggest issues your community faces?
"Unemployment is an issue, not unlike in most communities…Trying to make sure that our folks are able to have quality jobs, not just jobs at the bottom tier, but jobs up and down the spectrum so that they can provide for their families, and so they can be economically set for their future as well."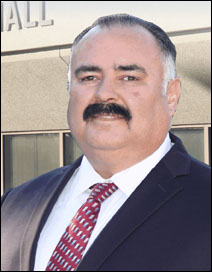 You mentioned homelessness. What housing issues are Inglewood residents facing and what is the city doing to help?
"The other issue that we're facing is finding homes…Trying to get folks into subsidized homes, so that they can have a roof over their head and be able to have a comfortable area for their family to be able to put their head down at night and feel safe and secure."
The city is working on attracting affordable housing funding and developers. For instance, in April, National Community Renaissance and Linc Housing, both California-based nonprofits, opened Fairview Heights apartments, a complex with 101 affordable and supportive housing units at 923 East Redondo Blvd in Inglewood. They converted an old L.A. County building and used funding from a number of previous housing-related ballot measures.
What are some possible solutions to unemployment and housing issues?
"We're looking at our economic development, making sure that we're bringing businesses into the city of Inglewood. As you might know, we have a brand new stadium, SoFi Stadium, which is used for football for the Los Angeles Rams and the Los Angeles Chargers as well as for other sports entertainment. We are currently in the process of building what's called the Intuit Dome, which is basically the basketball arena for the Los Angeles Clippers. And we also have the number one concert venue site in the state of California…the Kia Forum."
SoFi Stadium, which opened in 2020, and The Inuit Dome, projected to open in 2024, are expected to create hundreds of millions in tax revenue for the city of Inglewood. This privately funded arena owned by Steve Ballmer will house the LA Clippers. It is expected to be the most expensive stadium ever built — creating more jobs and revenue for the Inglewood community.
"We don't have a full one-year figure of tax revenues because of the impacts of COVID. The first year, 2020, was fully impacted [and] 2021 was partially impacted because people were apprehensive about going out. The current season, 2022, will [provide us with] a good estimate of [revenue from] parking and concessions from Rams, Chargers, concerts, and special events. Figures won't manifest until the new season starts. That's when we will see the true numbers." 
Where do you see yourself in six months?
"I hope to…to see the city in a better position economically, all the way around the spectrum so that we as a city can continue to help our residents and our business owners improve financial stability, to be able to provide housing for those that need housing, whether it's subsidized or any other form of housing, and then also to make sure that we continue to…bring businesses into Inglewood so that we can keep our folks working and cut down our unemployment rate by providing jobs for those that live in the city of Inglewood. So, I hope to see in the next six months that all those areas as well as some others are doing much better than we are today."
Inglewood council meetings take place at City Hall every Tuesday at 2 p.m. but in-person attendance by the public is not available at this time. The meetings can be watched on the city's Facebook page and on CCTV.