When they're visiting Inglewood City Hall, most residents don't realize there's a local celebrity in their midst.
Sharis Rhodes, executive assistant to the mayor, was crowned the 2023 -2024 Ms USA Universe. This is a big deal to the community because historically, beauty pageants often excluded women of color. European beauty ideals have long reigned in pageants and many U.S. pageants continue to be dominated by Caucasian winners.
Those ideals include a very thin, or even skeletal, body type. For instance, almost half of 131 female beauty pageant participants surveyed reported wanting to be thinner and more than half were trying to lose weight, according to a 2013 report published in the journal, Eating and Weight Disorders – Studies on Anorexia, Bulimia and Obesity.
Rhodes said she was inspired by the mayor, who she said has created a culture of Black excellence in the city: "You see the honor and respect that the employees have for him here that I have for him."
Inglewood Mayor James Butts said he's proud of accomplishments earned by city residents like Rhodes, especially because it's a "minority-majority community." So it can serve as an example for other communities of color.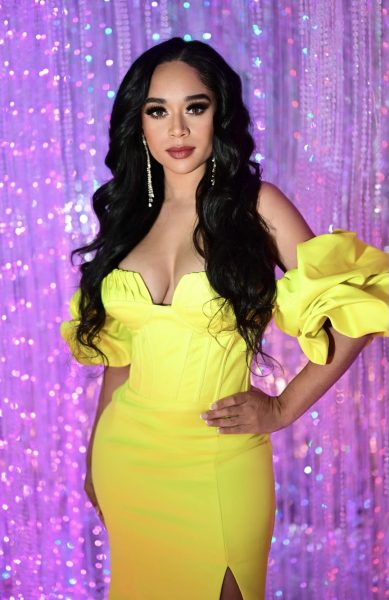 Rhodes, who previously worked as a liaison for intergovernmental relationships within the music industry, was approached about joining beauty contests. She lost one of the two contests she entered last year but persevered.
She shared some of her journey in a recent interview with UT Community News.
 Do you think we are breaking color lines in beauty pageants?
"I would say out of over 115 women in that pageant, I was one of three black women, and I would say absolutely 'yes.' We have been breaking the lines for a long time and we will continue to do so."
How did you become Miss USA Universe?
It's not just about beauty. They score you on community service, accomplishments, and interviewing. Some things are based on beauty like being photogenic. "It's more about where beauty meets intellect."
What does the contest mean to you?
"It includes humbleness being an inspiration for other women of color. That's what it means to me — is to continue to be an inspiration and an example to keep going no matter what. It's up to you to create your own destiny."
What do you think people want to know about the area?
Inglewood is a thriving community. The new Inuit Dome and SoFi Stadium venues are attracting more people to visit the city.
"I'm a resident here, so I live here. And there's a lot more opportunity for businesses. There's a lot more jobs here. The unemployment rate has fallen tremendously, from 17.5% to 4.7%. We even have opportunities for our Second Chance program with people who were formerly incarcerated to be able to work on buildings like your Intuit dome and have access to equal opportunity."