Four ways for Black students to find community on campus
I enrolled at Cal State LA for the fall semester of 2021, and during that time the majority of classes were on zoom due to the pandemic. I always wanted to find community with other Black students but I didn't know where to start and I didn't have the ability until I joined the UT last Fall. I was able to make friends within my major and there were a few Black students in my classes that I got to know.
As a reporter for the UT, I made it my goal to highlight the Black campus and cover events and topics that I haven't seen covered in the past, and to share it from a Black perspective. Meeting other Black students while covering events thrown by the Pan African Student Resource Center helped me network and make friends with them as well as other like-minded students and allies.
My hope is that Black students who feel isolated from the Black campus and don't know how to find people to relate to, can read these stories from other Black students and feel inspired. Hopefully they can put themselves out there to make long-lasting supportive connections on a deeper level of understanding.
Only 3.93% of Cal State LA's enrolled students identify as Black or African American as of Fall 2022, according to Cal State LA's student demographics. They have not yet posted the demographics for Black students enrolled in the spring semester of 2023.
The lack of Black people on campus was one of the major recurring issues for Black Cal State LA students, according to Cal State LA's study from last semester. Thirty-four of the 61 respondents (56%) reported the "limited number of Black people on campus as a major challenge."
In an attempt to combat Black students feeling underrepresented and secluded, here are 4 students at Cal State LA who shared about communities that they have found on campus.
Black Student Union (BSU) 
M'Ya Lopez is a psychology major and also the communications director for BSU.
Lopez was BSU treasurer at her highschool and knew she wanted to join BSU in college in a more impactful way.
"BSU's goal is to make not only Black students feel included at a school where we aren't the primary race, but including other students and teaching them [Black/BSU] history and how they can feel included," Lopez said. "BSU's goal is to empower everyone to feel comfortable."
When Lopez found out that the BSU needed a social media coordinator she advocated for herself because she had rebranded companies and worked for social media before.
Lopez said she enjoys being around people that not only look like her but have similar interests. She feels that the environment BSU provides is very open, loving and caring.
"I find it's harder to find this sometimes when you go to a school that's primarily [Latinx] or white," Lopez said. "Finding people that I can relate to culturally, mentally and physically is important."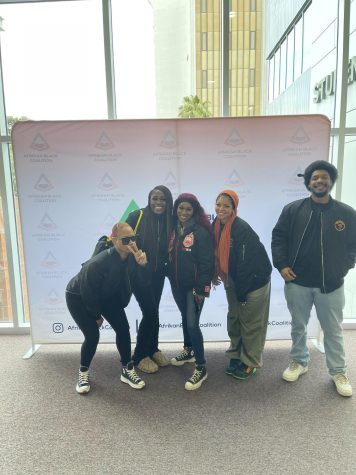 Lopez feels that the BSU community space means more than just being Black and that it gives her a sense of being around people that understand her culturally.
"Advice I would give is don't stop looking for your people, we're here and have open arms to support each other," Lopez said.
If you are interested in joining BSU, go to the Pan African Student Resource Center room in the Cross Cultural Center. You can also follow them on Instagram to be able to keep up to date or message them, @csulabsu.
The Pan African Student Resource Center (PASRC) 
English major and student program director of the PASRC, DeAngelo Ramirez, became involved with the PASRC about a year ago. Ramirez had been doing food service since he was around 14 and felt that it was finally time for a change.
Ramirez highly recommends that Black students come into the PASRC because it gave him the chance to connect with other students that look and act like him.
"Often I have to wear a 'mask' outside the center because not many people can appreciate Black people being their authentic selves," Ramirez said. "This space is designed for all-Black students to be themselves and allow them not to have to face the consequences of code-switching on their part."
As an Afro Latino, Ramirez said he takes into consideration the similarities and differences of how Blackness is received in other countries.
"Blackness in Latin America looks entirely different than it would in Europe and in the United states," Ramirez said. "To me it's a chance to embrace ourselves for who we are and how we show up for ourselves and our community."
Ramirez said he enjoys everything about being part of the Black community, such as the food, hair and music.
Advice that Ramirez would give to Black students looking for community is to, "Go outside of what society deems what is normal for you. If you enjoy what you do or are interested in a certain activity, do it with no judgments."
Delta Sigma Theta Sorority Inc.
Kaylin Drake is a public health major with a minor in Pan African Studies. Drake is also a member of the Delta Sigma Theta Sorority Inc.
"I got familiar with Delta because my grandmother is a Delta so as her legacy, I wanted to continue it," Drake said. "I then decided to further my research, find them on campus and then go for it."
Drake became a Delta in Spring 2022, and said she enjoys being a part of this community because it teaches her the importance of service and sisterhood.
"To me it means transitioning myself into the devoted woman I want to strive to be," Drake said. "Delta has taught me how to carry myself as a Black woman and excel in excellence. I also lost my grandmother last year so Delta really holds a special place in my heart now."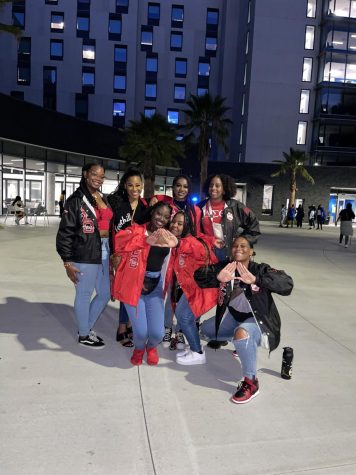 Drake recommends Black students come to sorority events and get to know the Delta organization to see what Delta is about.
"Delta Sigma Theta Sorority Inc. is about uplifting the Black community," Drake said. "We're out there; and our arms are also welcoming to our community. As a minority, the advice I would give is to stick together, move in unity and have each other's back."
Phi Beta Sigma Fraternity Inc.
Electrical engineering major Chris Colbert is a member of the Phi Beta Sigma fraternity Inc.
"My father joined the fraternity from a different school in 2011, so I was already exposed to what being in a fraternity was like from his perspective," Colbert said.
Colbert was able to connect with Sigmas at other schools like UCR, UCLA, SDSU, Dominguez Hills, Sacramento State and more. He likes how close they all are and all the community service opportunities he's given.
"Being in this fraternity, I know I will have a lifelong family," Colbert said. "To any Black students looking for a community, I would suggest looking into any of the Divine 9 fraternities and sororities and do research before joining."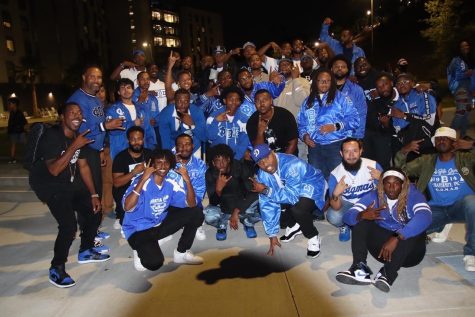 The National Pan-Hellenic Council is known as "The Divine Nine," and is made up of nine historically African American Greek-lettered organization movement fraternities and sororities.
This includes: Alpha Phi Alpha Fraternity Inc., Alpha Kappa Alpha Sorority Inc., Kappa Alpha Psi Fraternity Inc., Omega Psi Phi Fraternity Inc., Delta Sigma Theta Sorority Inc., Phi Beta Sigma Fraternity Inc., Zeta Phi Beta Sorority Inc., Sigma Gamma Rho Sorority Inc. and the Iota Phi Theta Fraternity Inc., according to the National Pan-Hellenic Council's website.
"Each of the nine NPHC organizations evolved during a period when African Americans were being denied essential rights and privileges afforded others. Racial isolation on predominantly white campuses and social barriers of class on all campuses created a need for African Americans to align themselves with other individuals sharing common goals and ideals," according to the National Pan-Hellenic Council's website.
The Phi Beta Sigma Fraternity page is @dg_sigmas on Instagram and students who are interested in joining can always message them if interested, according to Colbert.