Inglewood small business blames Starbucks for drop in sales
Family-owned shop considers closing its doors
As if pandemic-related closures and more recently, inflation, weren't enough, gentrification is taking a toll on Inglewood and businesses such as Sydy Styles Fashion, a women's clothing store.
That's according to owner Carl Nelson, who said that developments like SoFi stadium and Intuit Dome are changing the city and drawing chain stores that are wreaking havoc.
One particular billion-dollar company has been vexing Nelson: Starbucks.
"We don't get a lot of street traffic because customers can't see us," said Nelson.
Nelson claims that a Starbucks is obstructing the view of his business, which is located inside a mini-mall on the 900 block of North La Brea Ave. The store is struggling to find business and may close after just one year, he said.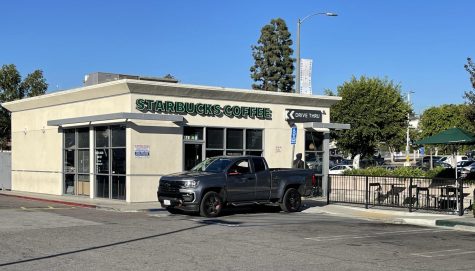 Not everyone agrees with Nelson.
Starbucks employee Martha Habte says Nelson's claims "make no sense," she said. As it gets dark, sometimes the signs in the mini-mall may not be visible. "Poor lighting is the only way," Habte said. "There are many businesses here," not just Starbucks. 
Ines Huerta, who works for Nelson, said drivers have a difficult time spotting the store as they pass by.
"The store has low visibility because La Brea is a busy street, and drivers can't see" the shop, she said. "When customers do find the store, they are surprised and say it's like a hidden gem."
The shopping area includes other stores like Baskin Robbins, Subway, Domino's and Popeyes.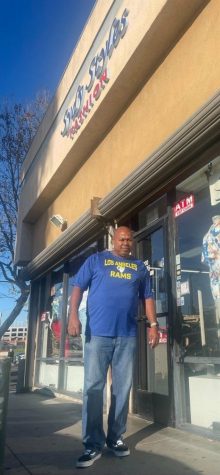 Nelson owns other businesses in South Los Angeles, including another Sydy Styles Fashion, which has been around for 26 years. He would like to see more businesses owned by families who come from the neighborhood.
Despite pushing for more family-owned businesses, Nelson said his own family has no interest in working for his stores. He notes that it seems to be different for other ethnicities, whose children sometimes take over their families' businesses.
"Why can't we be like" them? Carl said. "My kids don't want to work in any of my stores." 
Unemployment for low-income communities of color is a huge obstacle in South Los Angeles and Nelson believes it is important to give back. This means addressing racial disparities.
"African Americans in this neighborhood [can sometimes] lack understanding and patience," said Nelson. "There has to be a solution."
Nelson argues that positive and motivational messages are what the community needs. Despite the presence of gangs, he said he wishes the community would work together more to create more entrepreneurship opportunities and jobs for the local economy.