In many smaller cities in Southern California, people don't know who the mayor is.
In Inglewood, residents not only seem to know Mayor James Butts, but they re-elected him to a fourth term last year.
Butts championed new developments in Inglewood like SoFi Stadium and count them among his biggest accomplishments for helping bring national spotlight to the city. Businesses and homeowners are generally thankful to see growth, jobs and more economic activity in the city. At the same time, renters say they're affected daily by inflation costs and rising housing prices and cast much of the blame for that on the new developments.
James T. Butts Jr. was a Cal State LA student who played basketball with legend Raymond Lewis in the 1970s. After graduating with a bachelor's in business, he sustained an injury that ended his dreams of playing for the National Basketball Association.
"Two knee surgeries [and I] couldn't play ball anymore," Butts said. 
Butts was born and raised in the Morningside Park area of Inglewood, which has historical significance. In the 1700s, Native Americans watered their herds with Inglewood's natural springs in what is now Edward Vincent Jr. Park, according to the L.A. Times.  It was settled in 1873 by Daniel Freeman and soon after, the land was developed as a poultry raising area, according to Britannica. Its history also has an ugly side: During the city's agricultural boom in the 1920s, it was one of the headquarters of the Ku Klux Klan, according to the Times.
Butts said that "up until the 60s, they had covenants on real property here that said you could not sell to a colored person."
He said he originally took a job at the Inglewood Police Department because he was in need of money to pay for his car. Butts spent 19 years protecting and serving the Inglewood community as a police officer from 1972 to 1991. He said he was one of the highest-ranking officers.
Butts has been serving as mayor of Inglewood since 2011, according to the City of Inglewood's website. As an elected official, he is responsible for the well-being of the city.
"I'm one of the few mayors and chiefs of police that ever graduated from Cal State," Butts said.
Cal State LA has graduated at least a handful of mayors in the area. Nat Trives is former mayor of Santa Monica, Sasha Perez is vice mayor and former mayor of Alhambra and Salvador Melendez is a Montebello councilman and former mayor.
Similarly, nearby Cal State Dominguez Hills has five graduates who are current mayors in L.A. County: Rex Richardson, the 29th mayor of Long Beach; Emma Sharif, the mayor of Compton since 2021; Lula Davis-Holmes, elected as the first Black female mayor of Carson; Alex Vargas,  reelected as mayor of Hawthorne in 2020; and, of course, Karen Bass, the first woman elected as mayor of the city of Los Angeles.
At a city council meeting in September, Butts sat at a podium and discussed the housing market crash, the recovery process and proudly spoke about an increase in home ownership in Inglewood.
"Inglewood is the fastest growing city in the nation" socially and economically, said Sharis Rhodes, Butts' executive assistant.
Both Beyonce and Taylor Swift performed recently to the city's sold-out arenas. Beyonce set a new high by surpassing the previously highest-grossing tour records of Michael Jackson and the Weeknd according to Vibe.
"Our visitation population, for example, in a 9-day span Between Beyonce and Taylor Swift concerts was an additional 750,000 people. "So, we hosted seven times our residential population in a 9-day period," said Rhodes.
Those additional visitors more than offset dips in Inglewood's population, city leaders say. The city saw a 3.8% decrease between April of 2020 and July of 2022, according to the United States (U.S.) Census Bureau. In April of 2020, Inglewood had a population of 107,759 persons and it decreased to 103,621 by July of 2022.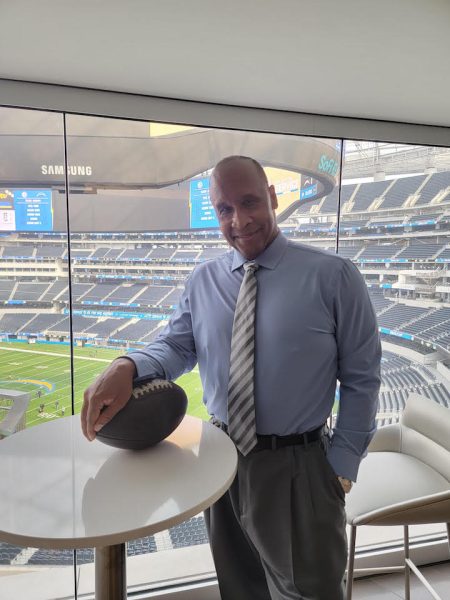 New stadiums
Butts said one of his proudest accomplishments is working with other leaders on the city's various developments and stadiums.
'In August, the Taylor Swift Tour sold out the entire six nights at Sofi Stadium with over 100,000 Swifties. In September, Beyonce celebrated her birthday with her Beyhives.
The SoFi Stadium and the development of the new Intuit Dome owned by Steve Ballmer, the staggering $2 billion sports arena is attracting more people to move to this bustling community and pushing long-term residents out by inflating housing prices, according to experts and residents.
The new Inuit Dome stadium in Inglewood is projected to open in April of 2024, according to the mayor's office. 
"People tend to forget that the city of Inglewood had the Lakers, the Kings and the racetrack was doing about 43,000 people a day, six days a week on average [plus about] 17,500 into the forum for Lakers or Kings games at rush hour," Butts said.
The mayor's fans include new businesses and residents who are glad to see more jobs and tax revenue coming to the city.
Inglewood resident Kyle Morris said he likes that Inglewood is becoming upscale while still being a loving and caring city.
Critics
Some of Butts' most vocal critics are residents who feel the stadiums have changed the city too much and are leading them to be pushed out from the city.
Alicia Washington, a nursing student and longtime Inglewood resident, feels she is being pushed out of her community and is saddened by the changes to the neighborhood because of the stadiums.
"It's really sad because you know, I'm forced to go live somewhere else when I really would prefer to stay in Inglewood," Washington said.
Washington said she has been in her unit for 29 years. Recently, her landlord increased the rent, so she went to city hall looking for a solution to her problem. 
"I'm a productive citizen of society but I was asked to relocate from my apartment," Washington added. "Everything is so expensive."
Butts responded to the criticism by saying that the city has the lowest median rent in the entire South Bay. "We have more affordable housing per capita and in whole numbers than the entire South Bay," he said. "Inglewood has the lowest rent control cap in the entire state of California. It's 3% or inflation, whichever is higher. 4. No homeowner is being forced to sell their property. Their property has tripled in value over the last 10 years and now homeowners have generational wealth to pass on to their children."
Kyle Morris, the resident who said he likes recent changes in the city, said city leaders are doing well and had this to say about Butts specifically: He's a "very good mayor. I like him."
Inside the suite the mayor enjoys the game from above. Photo courtesy of Butts.