Keeping ourselves healthy during the pandemic
A review of Kumix, a juice bar in La Puente
This year came with many uncertainties.
That's why taking care of my well-being — including being considerate about the food I consume — has been so important. It really has made a difference in how I feel on a daily basis.
With more free time to snack and being closer to the kitchen, it's especially important to be mindful of what I'm eating. 
Often when people crave something sweet, the standard advice is to reach for an apple.
For me, an acai bowl — acai berry puree topped with granola, fruit, coconut flakes and toppings like chia seeds, almonds, and honey — works much better.
Fortunately, buying healthy acai bowls, smoothies and juices is a lot
I still remember my first time trying an acai bowl. I could not get enough. I even started working at a business that sells acai bowls to get more access to one of my favorite foods. As someone who is pretty obsessed with these smoothie bowls, I decided to check out Kumix Juice Bar in La Puente.
As I walked inside the business after placing a pick-up order online, I was greeted by some friendly staff members who handed me my order.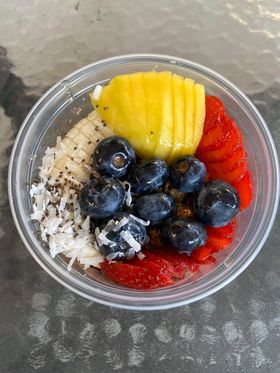 I ordered the 24-ounce Kumix Bowl with the "Vegan Almond Base," which consists of an acai base, almond butter, plant-based vanilla protein powder and chia seeds, and I had it topped with the "Mango Splash," which includes mango, banana, strawberry and honey. I also purchased a "Spirulina Mix" energy smoothie, made of organic spirulina, mango, banana, pineapple and chia seeds.
The acai bowl was beautifully presented with perfectly-cut fresh fruit. The base was flawlessly mixed, with a nice consistency; It wasn't too watery, like other bowls that I've tried. I would have appreciated a little bit more granola but I still tasted the crunchiness in every bite. Overall, the bowl was delicious and well-made.
I wasn't the biggest fan of the "Spirulina Mix" energy smoothie. This was my first-time trying spirulina, which is a type of blue-green algae made into a powder with endless benefits, but I don't think it meshed well with the pineapple and mango combined in this smoothie.
When I posted on a La Puente Facebook group to ask if any city residents have tried Kumix, the accolades started coming in — 11, to be exact, and but two were positive. One recommended another juice shop without mentioning Kumix and another one, by Baldwin Nguyen, was mixed. He noted the prices, which range from $3.99 to $12.50 per bowl, are "steep."
"Their bowls are solid as well as their smoothies," he wrote. "Overall, it's a solid choice but not the best in terms of value and taste."
Some of the positive comments, like one by Nancy Ramirez, were glowing.
 "It's amazing! Their spirulina Kumix bowl is a must! I've tried everything on the menu," Ramirez wrote.
Kumix was created to fill a need, according to an interview I did with the owner after trying the place out as a regular customer.
"I worked for a company called Headspace in Santa Monica. I noticed that around the city, there were so many wellness companies such as yoga, juice bars, wellness centers…It occurred to me that the city of La Puente doesn't have anything like that…so I decided to bring a bit of that concept here," Antonio Barbosa, an owner of Kumix said in an email interview. "We do not use processed sugars at all. Everything is always natural and fresh."
Bottom line: Kumix is a gem in the city of La Puente and every resident deserves the chance to experience the delightful tastes and nutritional benefits offered.
Community News reporters are enrolled in JOUR 3910 – University Times. They produce stories about under-covered neighborhoods and small cities on the Eastside and South Los Angeles. Please email feedback, corrections and story tips to [email protected]