Women behind the wheel: The lowrider ladies of Los Angeles
Women aren't just posing in front of lowriders with sexy bikinis and hot pants.
Now, they own the lowriders and are shaking things up with their own style, car clubs and culture.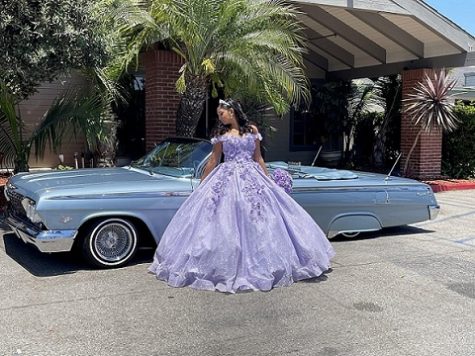 Lowrider culture has been traditionally male-dominated and women mainly tagged along with a boyfriend or husband, staying silent in the background. But seeing more women in the past decade or so buying, fixing and primping their own cars has empowered a whole new generation of women to take on the hobby.
"I've seen so many girls lately driving lowriders. It's really cool to see. I have a lot of respect for the lowriding community. They all come together when something happens. People help out when you break down, and it's just super cool to drive these beautiful cars," said Gaby Jimenez, who lives in Los Angeles' Wilmington neighborhood.
Patty Pineda, who moved from South El Monte to Corona 12 years ago, said she met her husband at a mini-truck club for owners of smaller trucks, and has been in the community ever since.
She became even more embedded in the culture as a photographer for and owner of MiniTruck Era Magazine, which is dedicated to featuring mini-trucks and lowriders.
Pineda added that one of the qualities that distinguishes womens' riding culture from mens' is the encouragement and positivity over pure competition.
"People would start clapping — jumping up and down — every time they would see a woman with a lowrider because it was still so unusual," Pineda said.
Pineda thinks that the acceptance of women in this male-dominated sport has been slow over the years but has visibly increased as more women join the ranks and men get used to them and even like their participation.
Lowriding's LA, and male-dominated, roots
If the culture has a home base, it would be Whittier Boulevard in Los Angeles, a wide commercial street that cuts through key barrios of the city, including East Los Angeles.
Lowrider culture grew out of the post-World War II era, when vets had money to buy cars and fix them up and it was popularized during the civil unrest of the 1960s, when Mexican Americans wanted to distinguish themselves culturally and express their own sense of style.
These men would customize their cars to ride low to the ground, fitted with special hydraulics to make them bounce up and down.
While women were mainly spectators or passengers then, as more of them entered the workforce and got better paying jobs, they wanted a taste of the lowrider culture.
Enter the Lady Bugs Car Club in the 1970s. It was one of the first car clubs for women and was founded by Stella Perez on the heels of the Volkswagen Beetle craze in the early 1970s. Its early members were from places like Sun Valley, East Los Angeles and Echo Park, according to Motor Trend magazine.
Today's lowriding ladies
Now, finding women purchasing and converting their own rides and taking part in the lowrider scene is much more common. Clubs such as "Ladies and Lowriders United" provide a space for lowriding ladies to come together and hold annual contests such as one declaring the "Lady Rider of the Year."
Jimenez, for instance, has been into lowriding since 1994. The first lowrider she owned was a 1962 Chevrolet Impala, which she bought about eight years ago and still owns.
¨It's garaged so it stays very clean,¨ Jimenez said.
Jimenez is thankful to have been exposed to lowriding as a child since her dad had a 1947 Cadillac and older brother loved fixing up a lowrider bike and his VW bug. But her biggest influence is her husband, who is in a car club. Together, they've viewed many lowriders and even went to Cuba to check out old cars.
She conceives and designs while her husband helps her execute the ideas.
Jimenez says she loves going to the swap meet and car shows to check out cars and get ideas for hers.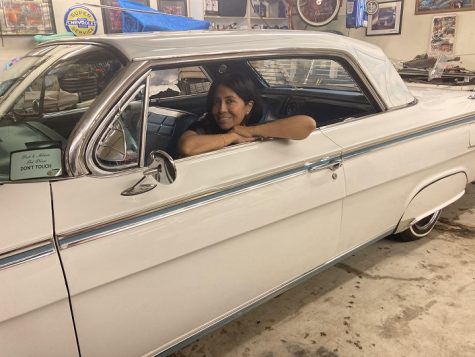 Longtime lowrider Paul Sandoval, who has helped Snoop Dog and others with their lowriders, said he has seen a lot more women active in the community and forming their own car clubs, which would have been unusual even 10 years ago. Each of his daughters owns her own lowrider.
Stereotypes about lowriding persist
Still, some stereotypes are slow to disappear.
"It does give them a lot of attention and they always get asked if that's really their car or their dads, but they tell people that in fact that is their car," Sandoval said. "I know at least eight to 10 female owners who now come from diverse backgrounds as well."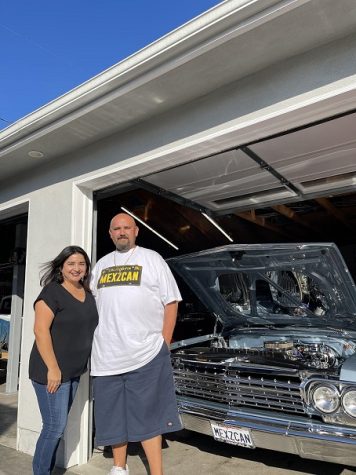 He has had to battle other misconceptions about lowriding.
When he first started dating his wife, Laura Sandoval, she didn't like his involvement in the lowrider community because she was scared for their safety. Lowriding was affiliated with gang involvement then.
So, at one point, Paul asked her to go with him to an event and see for herself.
Laura said what she experienced that day changed her perspective: "I was expecting a fight to happen, but on the contrary, it was only families coming together to show off their lowriders and talk about them and build meaningful long-lasting connections.¨
Paul added that "an old lady came in and talked about how her husband used to own a car exactly like mine and even started tearing up. Ever since then, my wife has started to enjoy the ride and stopped being fearful about this world."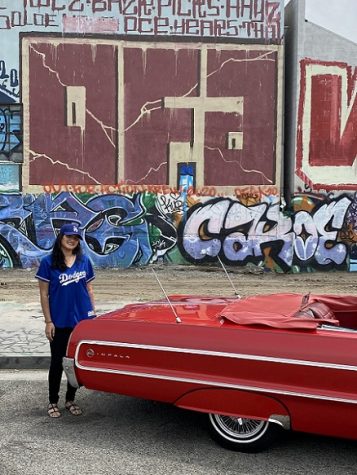 Just as she came around, Paul said he's confident others will. "The stereotype of lowriders being all gang-related is slowly fading and now more women are investing in their cars and joining the cruise lifestyle, which at the end of the day is all family- and culture-oriented," he said.
In fact, Sandoval said he thinks lowriding has kept many young men like himself from pursuing other, harmful pastimes such as drugs or gangs.
Lowriding draws fans, not just car owners
The word is quickly spreading about lowriding, even among those who don't actively participate.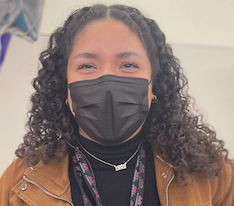 For instance, Kate Montalvo, area supervisor of dd's DISCOUNTS clothing store in the Commerce area, has become a fan as an observer because she learned about the culture through customers who are lowriders and enjoys watching them after work.
Some lowriding events happen at the Commerce Shopping Center parking lot, where she works.
"Working here has allowed me to experience the cultural expression through their reunions here," Montalvo said. "On Sundays, lowriders come in through the city and it's fun to watch. Especially the lowrider girls who own their cars. They look so cool."
Community News produces stories about under-covered neighborhoods and small cities on the Eastside and South Los Angeles. Please email feedback, corrections and story tips to [email protected]