Meet Boone Nguyen: Putting a spotlight on Vietnamese culture and history
Anne To, Managing Editor
March 13, 2023
Flashing images of floral patterns from his mother's clothing overlay a white ao dai, a traditional Vietnamese garment that is worn by both men and women. The sound of his mother's village plays in the background. The projections of the patterns dye the dress with colorful flowers. These then shift into ceremonial flames and images of his families' burial sites.
"What colors are your ao dai?"
That is a question that Boone Nguyen, an MFA graduate student, never got to ask his mother before she passed away. The question became the title to his series of installation art pieces that focus on an object and question that he never got to ask an elder, called "Questions I never asked."
"I wanted to make a piece that was thinking about questions about memory, longing, loss and also just part of her life," Nguyen said.
Nguyen recently became the sole recipient of the College Art Association (CAA) Professional Development Fellowship in Visual Arts for 2022. The award is given to multicultural artists and artists from underrepresented communities.
"I try to have students look at themselves not just as visual artists, but also as scholars and doing research," said Robert Martin, an art professor who taught Nguyen. "He is a very motivated student and as you can see, he took that advice well. A lot of students don't realize there is a lot of free funding during school and after school."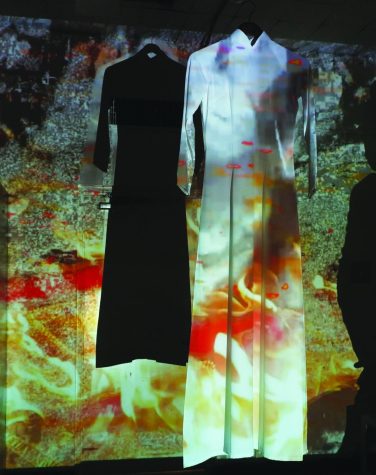 The CAA fellowship provides an unrestricted $10,000 grant for graduate students who are masters in fine arts or other terminal degree programs. Recipients of the fellowship also receive a one year membership to CAA and complimentary registration to the next annual conference.
"It's a really incredible honor," said Jenevive Nykolak, a member of Nguyen's MFA committee. "I'm really excited that he is being recognized for his important contribution to the field. It's a really great opportunity that gives recognition of his accomplishments. it gives him a lot of time and resources to be able to pursue his project."
With the grant that he received, Nguyen plans to return to Vietnam to connect with family and organize an exhibit or installation outside of either his mother's or father's ancestral villages.
"I want to make art that resonates with people, that speaks to social life, vitality and the beauty of the collective experience," Nguyen said. "People of communities that have been displaced or find themselves in a different place, but might be struggling. Through their collective endeavors, they transform the places and the spaces around them."
Dr. Juily Phun, an assistant professor for the Asian American Studies Dept, has known Nguyen for three years and considers herself a fan of his work.
"It's not just art, it's also a political statement," Phun said. "With Boone's work, what we see is a rumination of art and life, but also a critique of the U.S. racial system and colonial system. For all those reasons, he is just so superbly fantastically talented in the way that he actually considers and thinks about these kinds of critiques."
Nguyen creates immersive installation art pieces that include audio soundscapes and videos.
In his studio sits six monitors stacked on top of one another as videos repeat over and over again on a four minute loop. Archival footage of the Vietnam war plays, along with a video of a previous project, where he displayed footage on discarded TV sets of ponds created by bomb craters in Vietnam on the streets of East L.A.
Phun showed Nguyen's "Anh Út Tường Harvests Cassava from the Family Burial Grounds," in the exhibit she co-curated with Jason Periera, "The Boba Show."  Nguyen's works, along with other artists', can be found at the Chinese American Museum, where the exhibit will be on display for the rest of the year. Admission is free.
Nguyen's "Questions I never asked" works are part of his thesis exhibition, and it will be shown at the Ronald H. Silverman Fine Arts Gallery at the Fine Arts building on April 7-19.