Men's Soccer Continues its Historic Run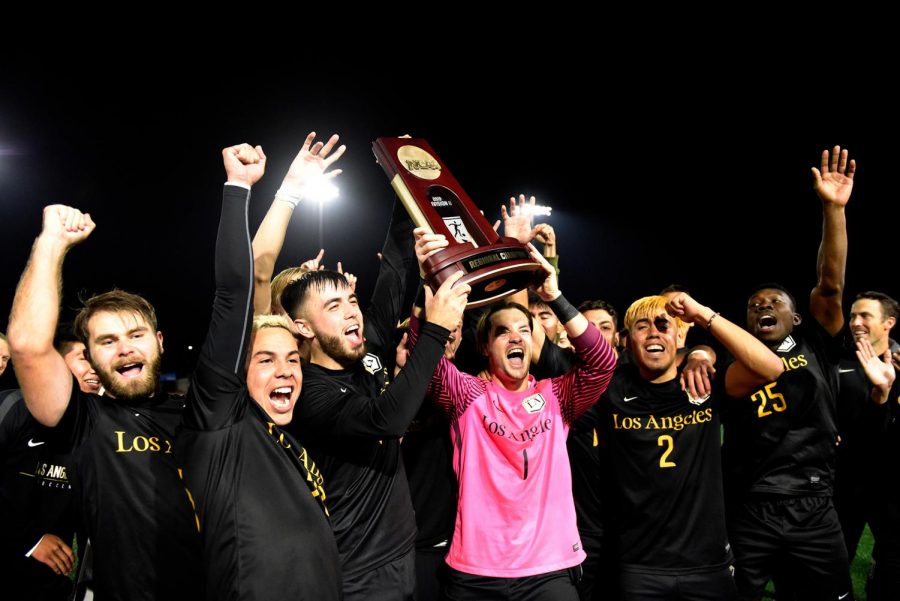 On Saturday, Cal State LA men's soccer defeated Cal State San Bernardino 2-0, becoming the Super Region 4 Champions. With the win, the Golden Eagles will travel to Pittsburgh, Pennsylvania, to play in an NCAA championship semifinal. This is the first time since 1981 the team has advanced to the national semifinals. 
Both of the goals came in the first half. The Golden Eagles had high energy to start the game, and it showed in their on-field pressure. The first goal came in the 17th minute by midfielder Tim Klefisch. Midfielder Carl Solli assisted as he drove to the goal and cut the ball back to Klefisch. Klefisch rifled a shot with his left foot, and placed the ball out of reach of the Coyotes' goalkeeper. 
The second goal came in the 28th minute by forward Robin Lindahl, and was assisted by midfielder David Elizaga. Lindahl had just checked into the game seconds before his goal. Elizaga found Lindahl in stride inside the box, where Lindahl placed the ball high in the net.
"It feels great. You just have to be ready when you're on the bench. You have to be ready to go out and give it your all," said Lindahl on his mental preparation during games.
Cal State LA is one of four teams ready to go to the semifinals. The others include University of Indianapolis, Lynn University and Charleston University of West Virginia. The semifinals will be played in Pittsburgh in the Highmark Stadium.
"We're going to try and play our futbol​, and hope that we get some luck on our side. Because when you get to this level, all the teams are pretty good," said Head Coach Chris Chamides on the upcoming semifinal game.
The team will travel to the East Coast, and will play their semifinal game on Thursday. Klefisch explained the mindset the team has, saying: "We want to win. That is the only thing. Our goal is to win. We are unbeaten, and now we go [to Pittsburgh] to win."