Music Teacher Gives Students Opportunities He Missed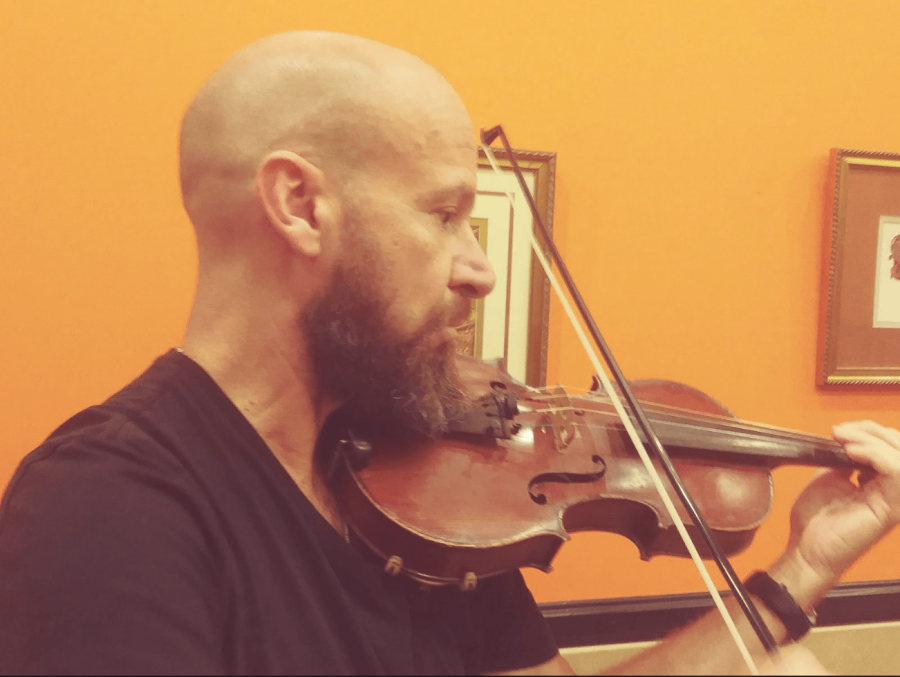 Boushra Rafi, UT Community News reporter
December 20, 2018
As a child, Timothy Maloof loved classical music but his family couldn't afford lessons for him to learn how to play an instrument. Still, he vowed to someday be a musician.
Not only did he achieve his dream, but he now teaches music to students in underserved communities. One of those students is Salma Shannon, who grew up in South Los Angeles.
This is the story of how they learned from each other and formed a lifelong bond.
Classical music for everyone
Maloof, who has been teaching music on and off for more than a dozen years, works in afterschool programs at the Los Angeles Music and Art School in the Eastside and Watts-Willowbrook Conservatory in South L.A.
"I remember Timothy 15 years ago, jumping on his [motorcycle], violin on his back, heading to a school program to teach violin to low-income kids," said Xavier Pilsudski, a film actor and editor who worked on a short film that Maloof composed music for. "Timothy believes that classical music shouldn't be for elite kids only."
Maloof worked as a dishwasher and a cook in various restaurants to pay his way through school, eventually earning two bachelor's degrees and this year, a master's degree in music from California State University, Los Angeles. In addition to teaching in the afterschool programs and giving private music and violin lessons, Maloof performs in several ensembles, Bedouin X, the Los Angeles Arab Orchestra and Qamar, an Arabic, jazz and rock fusion band.
But he says he's most passionate about helping students like Shannon and seeing them learn, grow and eventually succeed in life and their careers.
Overcoming doubts
Shannon started getting music lessons from Maloof when she was 12. Through programs she and Maloof participated in, Shannon received several years of guided music lessons free of charge. The two spent even more time, many hours per week, when she was in middle school, hoping to study at LACHSA, the Los Angeles County High School of the Arts.
On the afternoon of Shannon's audition for LACHSA, her uncle dropped her off, along with her mom.
As she walked toward LACHSA's big orchestra room, she could see three judges in it and could hear other students practicing.
The melodies all around her, which would usually calm her, made her nervous. The other students were amazing.
"Am I going to be as good as them?" she recalled thinking. Thousands of hours of practice came down to this moment.
Walking into the audition room, she picked up her violin, hands trembling.
As she started playing, her confidence grew. The 5-minute audition felt much shorter. The audition seemed to go well. She hoped the judges thought so, too.
About a week after the audition, her mom had already left for work when Shannon awoke, around 6 a.m. A sticky note next to her bed immediately caught her eye. Decorated with a smiley face, it read in her mom's handwriting: "Congratulations! You got in."
She could almost feel her heart swell with pride and a rush of emotions set in. She did it.
A lifelong bond
Maloof recalled how much joy it brought to him as well. And he remembers a special moment with her at the Watts-Willowbrook Conservatory soon after.
It was his birthday and he was enjoying how 14-year-old Shannon could freely coordinate her body movements with the tune of her music: Her forearm, upper arm, fingers and wrist were in perfect harmony with the melody of her violin.
Teaching her and hearing her play was a true gift, he recalled thinking.
At the end of class that day, as he was wrapping up and preparing to leave the classroom, he heard footsteps approaching his desk. He looked over his shoulder and saw Shannon and her mother.
"I know you will like it. It is your favorite color," Shannon said, handing him an orange tie as her mother thanked him for all he does.
It's my pleasure, he replied.
The gesture warmed his heart and made it a birthday he'll always remember.
Community News reporters are enrolled in JOUR 3910 – University Times. They produce stories about under-covered neighborhoods and small cities on the Eastside and South Los Angeles. Please email feedback, corrections and story tips to [email protected]