My Story of Using the Campus Food Pantry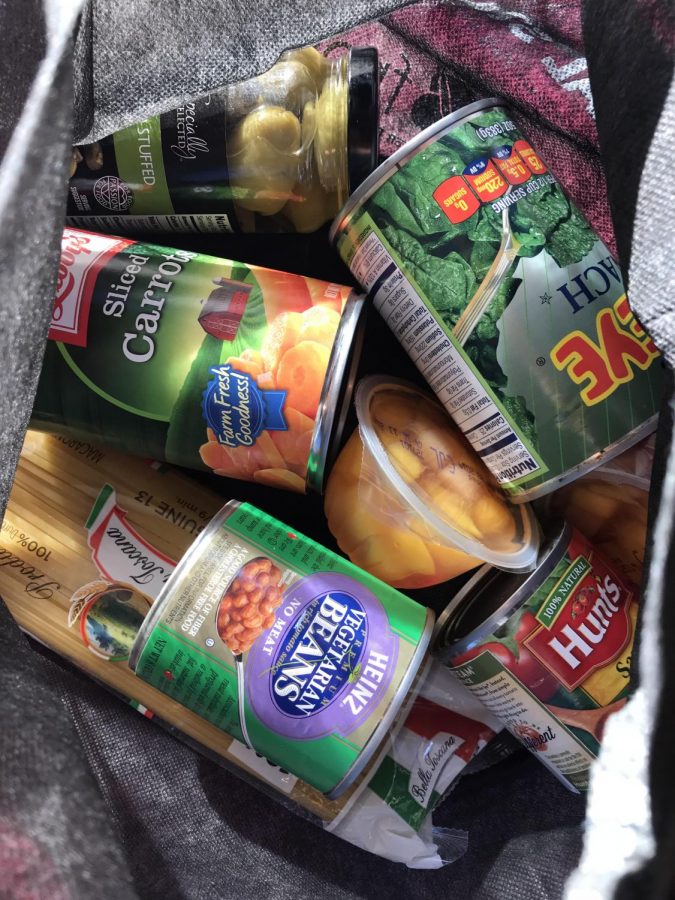 Jordan Rodriguez, Contributing writer
October 8, 2018
Not all students who have used Cal State LA's food pantry want to admit that they have.
But I will.
That's because I want to raise awareness about it — and encourage other students like me to use it if and when it could help them.
There have been times I was anxious and stressed knowing there wasn't food at home.
Knowing there is food at home is a relief, and it allows me to sleep easier.
"It's a beautiful thing that you have a food pantry at your school. Don't be too proud to take from the pantry if you need," my mother, Nancy Rodriguez, texted me recently. "If you don't need, be inspired to donate a can of food, if you can… Remember, there will always be those who have more than and those who have less than. Don't compare yourself. Just try to always be grateful."
On a recent afternoon, food pantry volunteers filled cloth bags with pasta, cans of spinach and beans, fruit cups, jalapeño stuffed olives and other items — and doled the bags out to a consistent stream of about six or seven students.
The line didn't shorten in the 10 minutes this reporter was there. Students waited in line with their student ID and GET account validating a current class schedule since those are the only two things a student needs to receive food from the pantry.
The food pantry opened in the Spring of 2017 and had served over 1,500 students by the Fall, according to the Division of Student Life's food pantry web page. "We serve an average of more than 100 students per week," it explains.
"Some of our students have been homeless. Some have not had enough food," said Paris Silva, of Counseling and Psychological Services. "We were learning this about students on campus, and that's how the food pantry started."
Human beings' basic physical needs — air, water, rest, food, and health  — must be met before other needs, like a feeling of safety and stability, love, belonging and self-esteem, are met, according to American psychologist Abraham Maslow's hierarchy of needs. Once all of those needs are met, they can work to improve themselves and the world.
If you wish to give to the community by helping supply the food pantry, you can drop off non-perishable food items to the Office of the Dean of Students or the Center of Student of Involvement Monday through Friday, any time between 8 a.m. and 6 p.m. During the semester, you are able to drop off food directly to the food pantry on Mondays and Wednesdays within the time frames of 11 a.m. to 1 p.m. and 3 p.m. to 5 p.m.
The pantry is located in the Student Union's room 308 E and students are welcome to pick up food on Wednesdays between 11 a.m. to 1 p.m. and 3 p.m. to 5 p.m.
Cal State LA's food pantry offers students free food without having to verify a need for it.
Silva said: "Given they may or may not get support from their parents, they may run out of money by the time they pay their tuition."
Community News reporters are enrolled in JOUR 3910 – University Times. They produce stories about under-covered neighborhoods and small cities on the Eastside and South Los Angeles. Please email feedback, corrections and story tips to [email protected]