Office hours until 10 p.m.
How one Cal State LA professor finds joy in helping students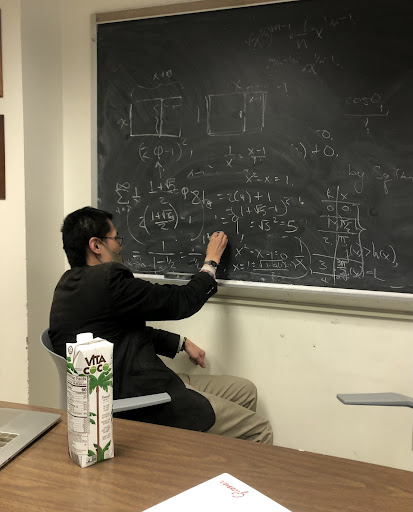 It's half past 10 p.m. on a Thursday night, and the light in room F213 in Simpson Tower is still on. 
Professor Sam Chyau of the math department is holding his office hours inside.
With office hours every day from 10 a.m. well into the evening, his dedication is plain to see. 
"It doesn't feel like work when you love your job," he said last semester at 3 a.m. while on Zoom with his students.
It was the night before finals and a handful of his precalculus students were still on his Zoom office hours preparing for the upcoming exam.
While Chyau's extensive office hours may seem like extra work in the eyes of many, he enjoys it and has never wavered from the reason he chose to make himself so available to students outside of class time.
"I like to reciprocate my students' efforts to learn," said Chyau. "A student who takes the time outside of class to work with me is taking initiative and investing time and energy to build their skill sets. It would only make sense that I be there to honor that effort."
His objective is to help his students learn. He also considers it fun. 
"During office hours, I have the most fun explaining in greater detail why some mathematical statements are true or false and providing proofs and counterexamples," he said. "Overall, there's just something about talking about functions as soda machines, getting lucky choosing rational roots of polynomials, rotating steering wheels to analyze sines and cosines and drawing polar curve snails and roses with my students that invigorates me."
Natural science major Arwa Hammad feels that Chyau has helped her greatly in ways beyond just academically.
"One time while I was in his office hours, I was having a bad day and I was just not thinking straight," said Hammad. "I said an answer and it was wrong, and Professor Chyau just talked to me and comforted me. He made me feel a lot better. In other instances when I'm unsure of my math answers, he always instills confidence in me. I will never forget it."
Hammad had done badly on the first midterm, and Chyau offered extra help in office hours to help her raise her grade.
"After all this, I got an 'A' for the second midterm," said Hammad. "I'm still thankful for him to this day."
He has been holding long office hours for close to a decade and doesn't plan on stopping or reducing them any time soon.
"I gradually started extending my office hours when I began teaching Honors Academy and EEP precalculus in 2014 almost eight years ago," said Chyau. "At the time, I could only triple my available hours, since I had my own graduate classes to attend and my own dissertation research to complete as a graduate student."
After finishing graduate classes and officially becoming an adjunct professor at Cal State LA, he made himself even more available during his office hours. Greatly influenced by one of his own math professors from his collegiate days, Chyau credits her with planting the seed of curiosity and passion for math in him.
"One of my earliest professors here at Cal State LA, Dr. Daphne Liu, was my primary inspiration for following the math professor path that I eventually chose for myself," said Chyau. "She has been my most impactful role model and greatest inspiration in learning what a truly dedicated professor commits to their profession."
When Chyau first started taking math courses at Cal State LA over a decade ago, he had no plans to become a math educator since his mother had wanted him to be a doctor.
"Dr. Liu changed all of that," he said.
Liu's motto of "there are no bad questions; my objective is to help you learn," and her support and assistance through office hours stuck with Chyau in his own teaching career.
Disclosure: The author of this article was previously in Professor Sam Chyau's class.